Recently I was lucky enough to be sent some goodies from the lovely guys over at Evoluderm!
Evoluderm is a french cosmetics brand who have a wide range of affordable and quality products. Currently you can get hold of their products in TK Maxx in the UK.
Enough about that anyway, lets get onto what you really want to hear about - the products! I've been lucky enough to give a fair few of their products a try and honestly I cant wait to tell you all about them.
So what products have I tried and tested?
Micellar Cleansing Water
Tonic Lotion
Precious Oils Exfoliating Cream and Cream Mask
Precious Oils for Skin and Hair
Protective Sweet Almond Milk and Shea Shampoo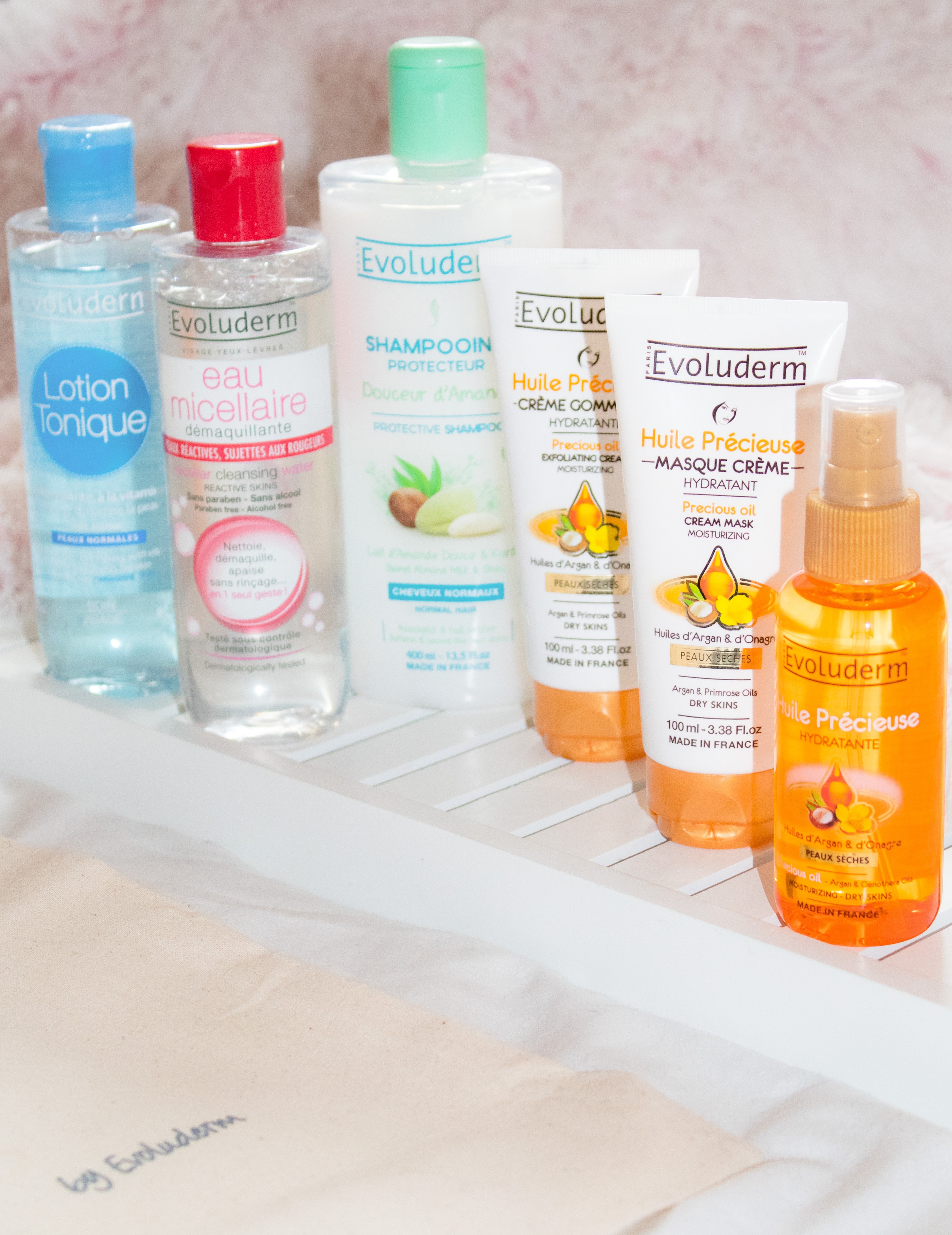 Micellar Cleansing Water For Reactive Skin
Everyone loves micellar water don't they? I know I do, ever since I discovered it, it's been part of my daily skincare routine. When this one arrived the timing was perfect, i'd just finished my last bottle so I got stuck straight into testing.
The micellar cleansing wanter cleanses skin and removes makeup by acting like a magnet to draw out dirt and makeup. Each and every time I've used it my skin has been left feeling clean, fresh and soothed.
This water does not have a scent to it, which absolutely amazing for those of us with sensitive skin.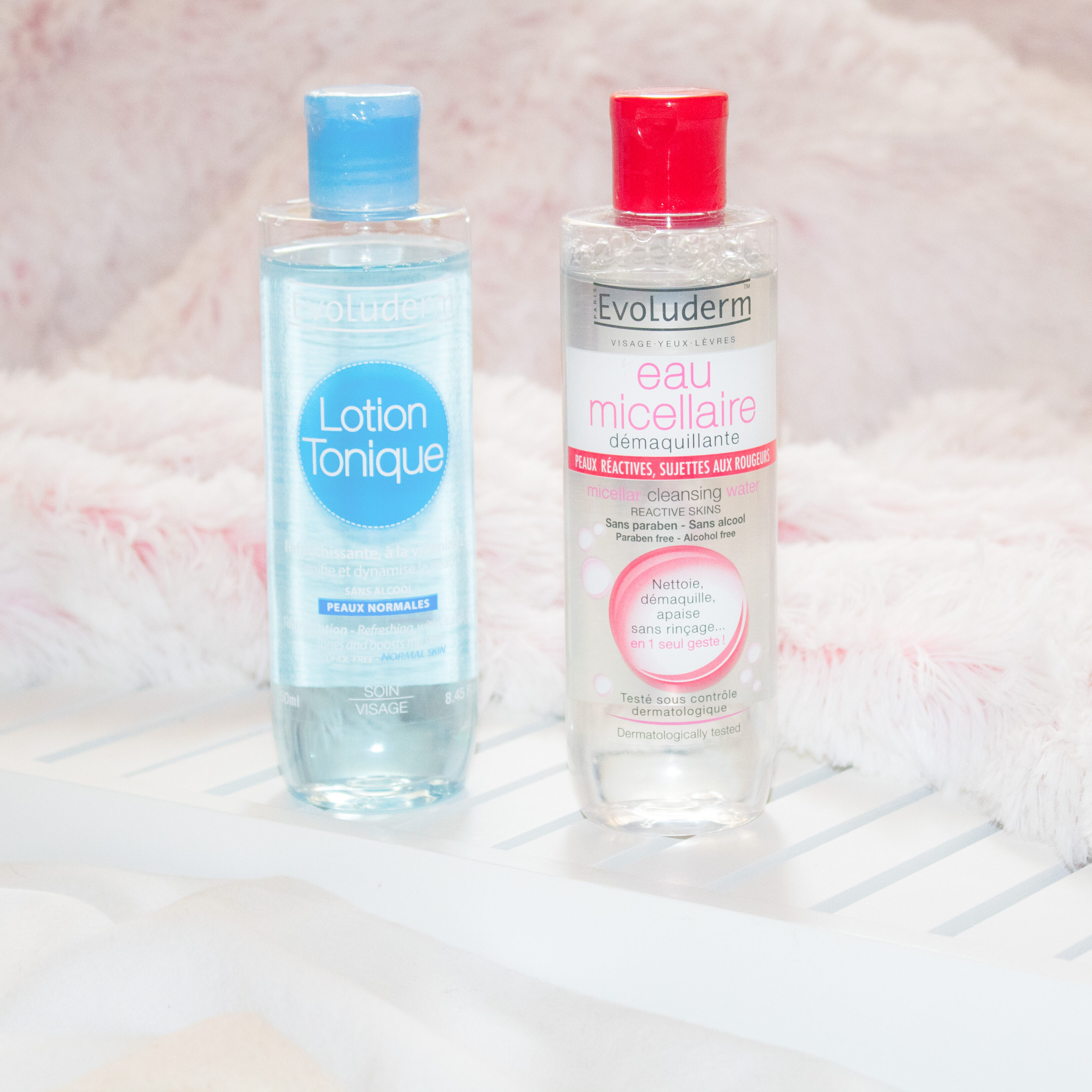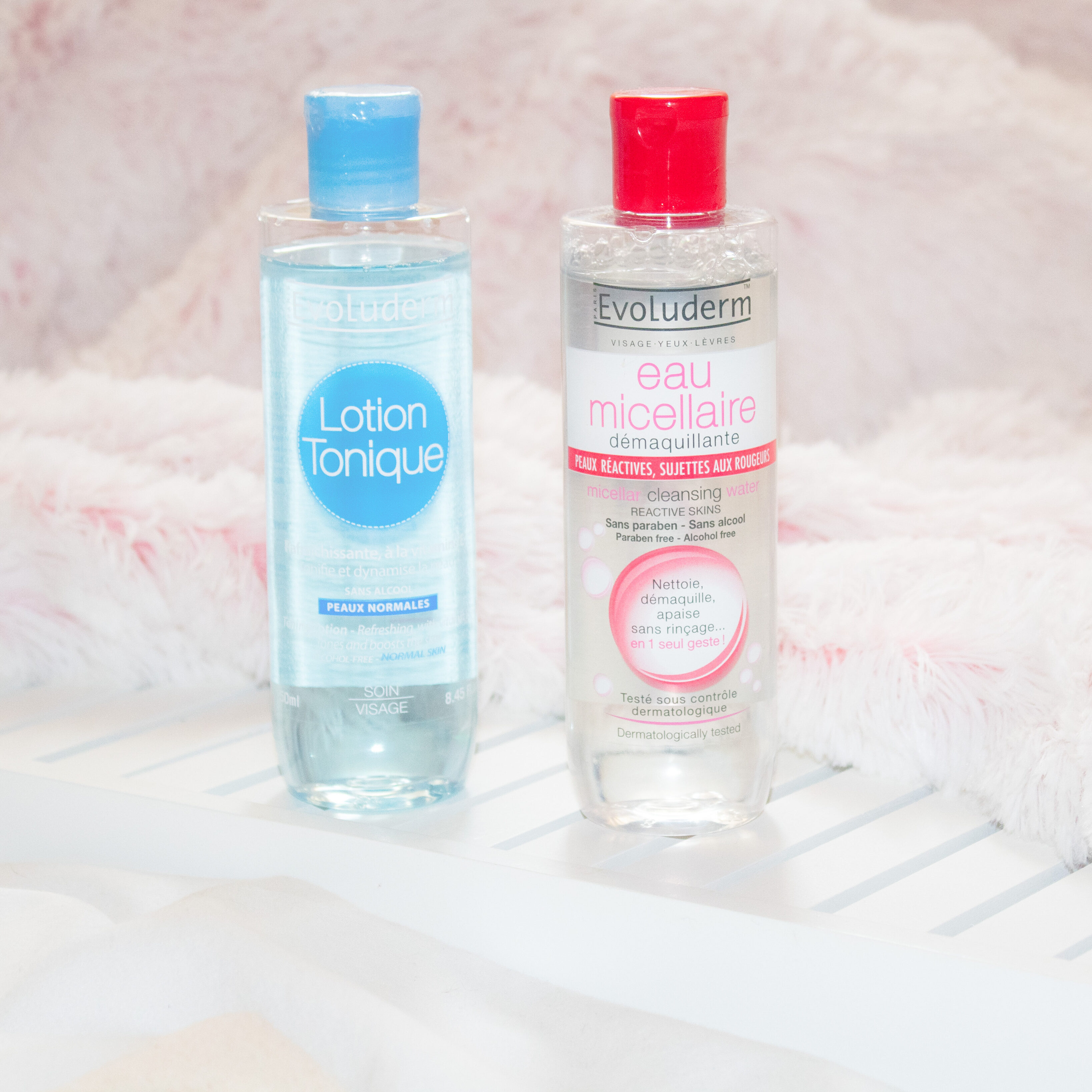 Toning Lotion
Evoluderm's toning lotion is slightly perfumed with what I would describe as a slightly floral scent which is delightful.
I was worried at first that it would be harsh on the skin as its perfumed, but boy was I wrong. My skin has felt incredible after each use with no stinging or reaction!
As its full of vitamin E and alcohol free the lotion leaves your skin feeling toned and refreshed after each use. Your skin is also left with a very subtle sweet floral scent which is lovely.

Precious Oils Argan & Primrose - Exfoliating Cream & Cream Mask
Unlike any other facial scrub I've tried Evoliderm's feels like it's effectively scrubbing away all the dirt and dead skin whilst moisturising your skin at the same time. So not only does it smell incredible, it does what it says it should too.
Like the scrub, the cream mask smells beautiful, its easy to apply and feels so soothing and moisturising on your skin. After using both products together your left feeling like you've just left the spa after a facial!
The duo are enriched with Argan and Primrose oils and are specially formulated for dry skin. So if your skins feeling a little dry after the cold winter months i'd definitely recommend these two to sort your skin out!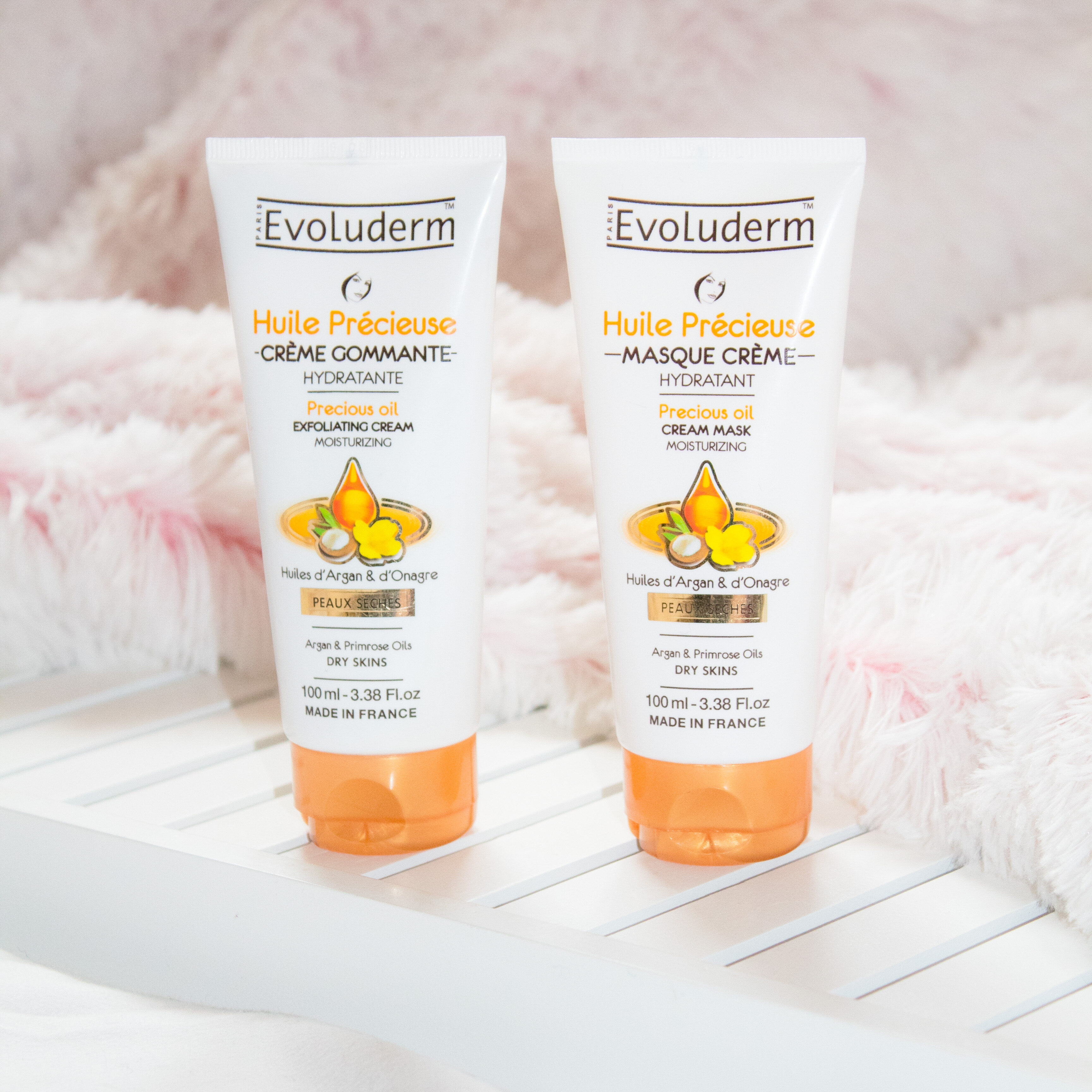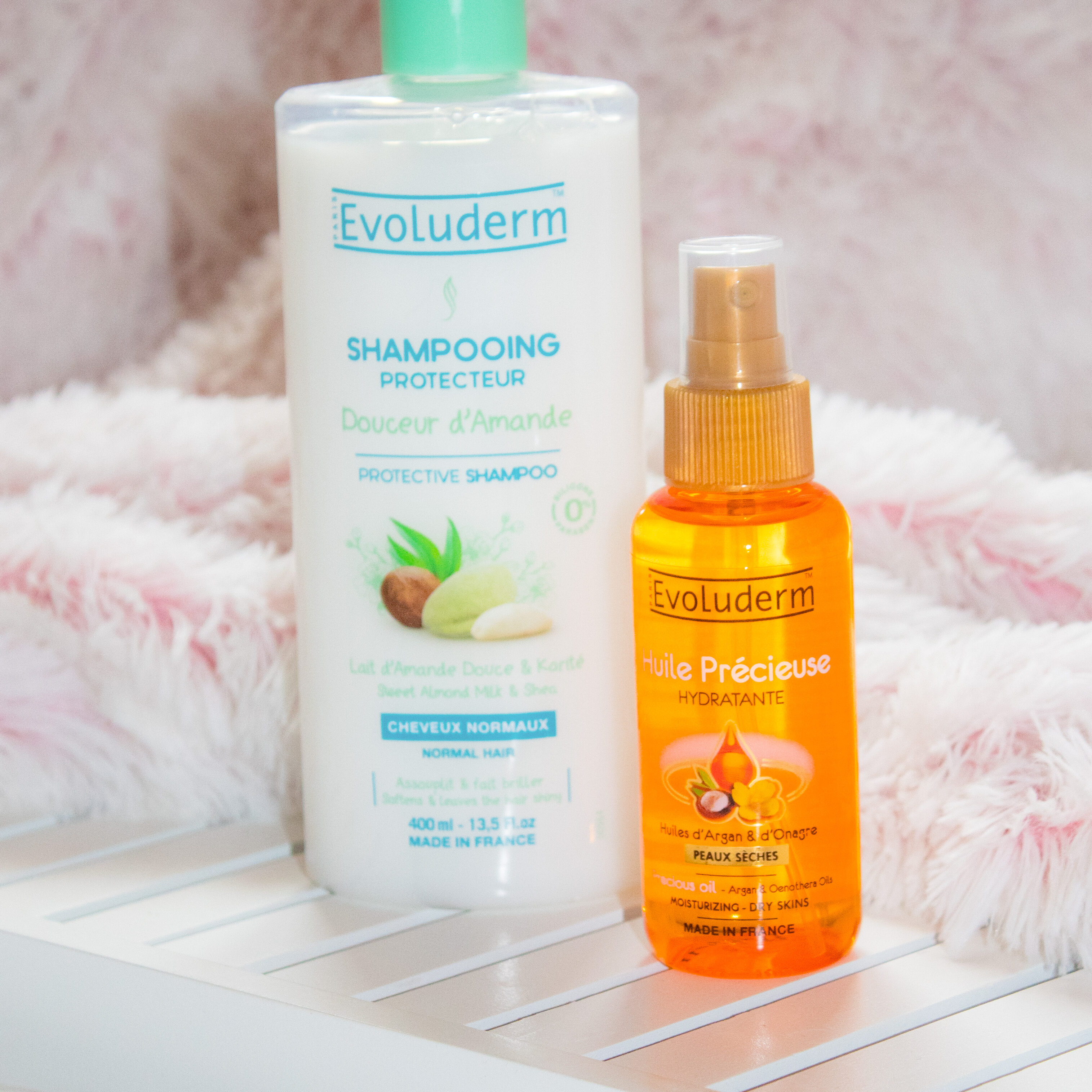 Precious Oil For Skin & Hair- Argan & Evening Primrose Oil
Before receiving this delivery I had honestly never heard of an oil that you can use both on your hair and skin! I have to say I've been pleasantly surprised at how well it's worked on both. Obviously both your skin and hair both need moisture and this little oil is the perfect way to combine it into one product.
When applied to the skin the oil massages into the skin really well, leaving no oily residue as you'd expect it to. Skin is left feeling soft and moisturised with what i can only describe as a incredibly relaxing aroma.
When using on your hair you only need a tiny bit of this oil - a little goes a long way! Spray into your hands and run through mid lengths to ends. You'll be left with hair that feels super smooth, soft and shiny.

Protective Sweet Almond Milk & Shea Shampoo
Last but not least is the protective Sweet Almond Milk & Shea Shampoo for normal hair. Even though my hair is colour treated I always tend to mix it up with my shampoos and as its a protective shampoo this one worked wonders.
Honestly I cant fault it, i would say that its just as good if not better than some high end shampoos I've used.
With subtle hints of sweet almond and shea this shampoo smells absolutely divine. I'm always worried about trying new shampoos for a number of reasons but this one lathered up amazingly and left my hair feeling clean, fresh, incredibly soft and shiny.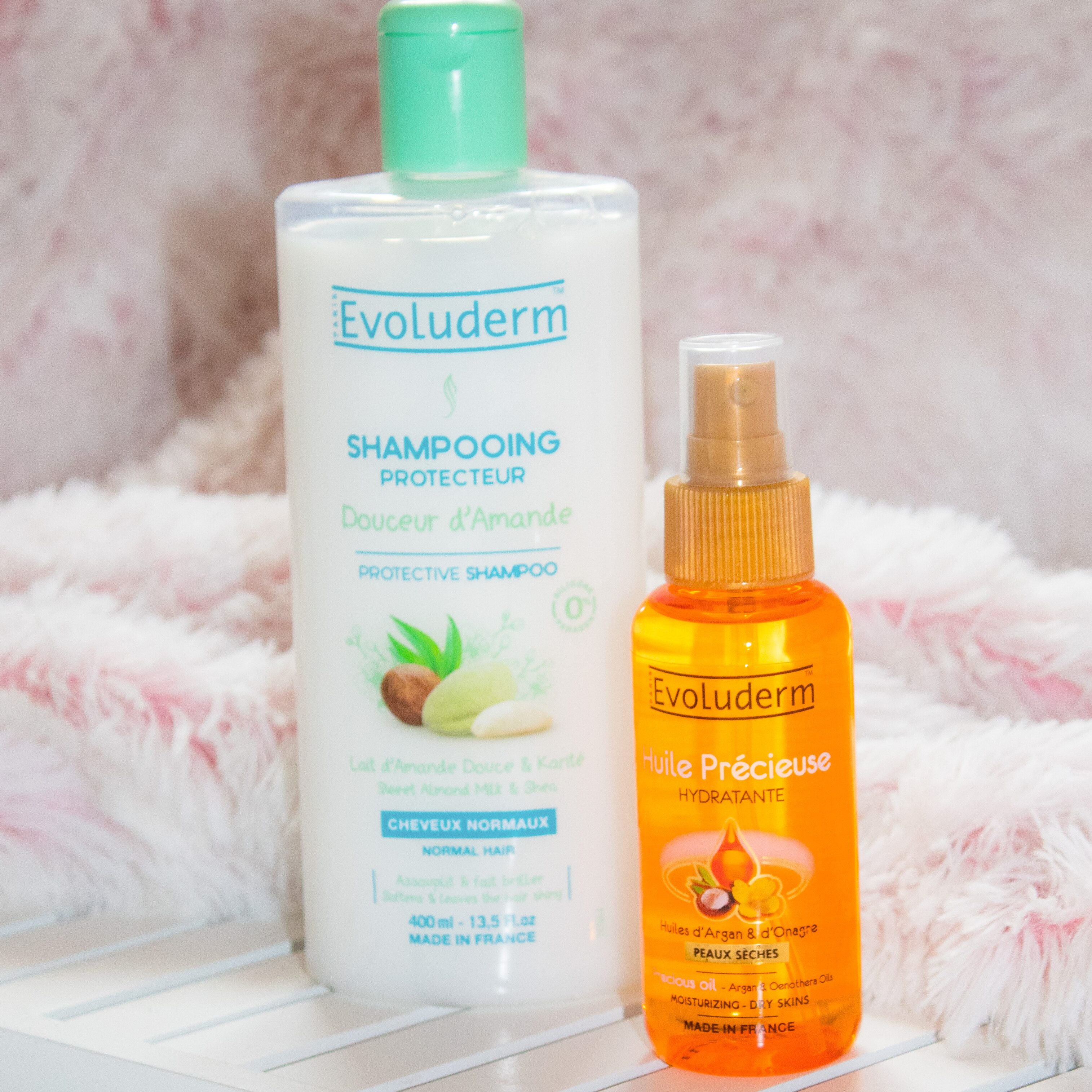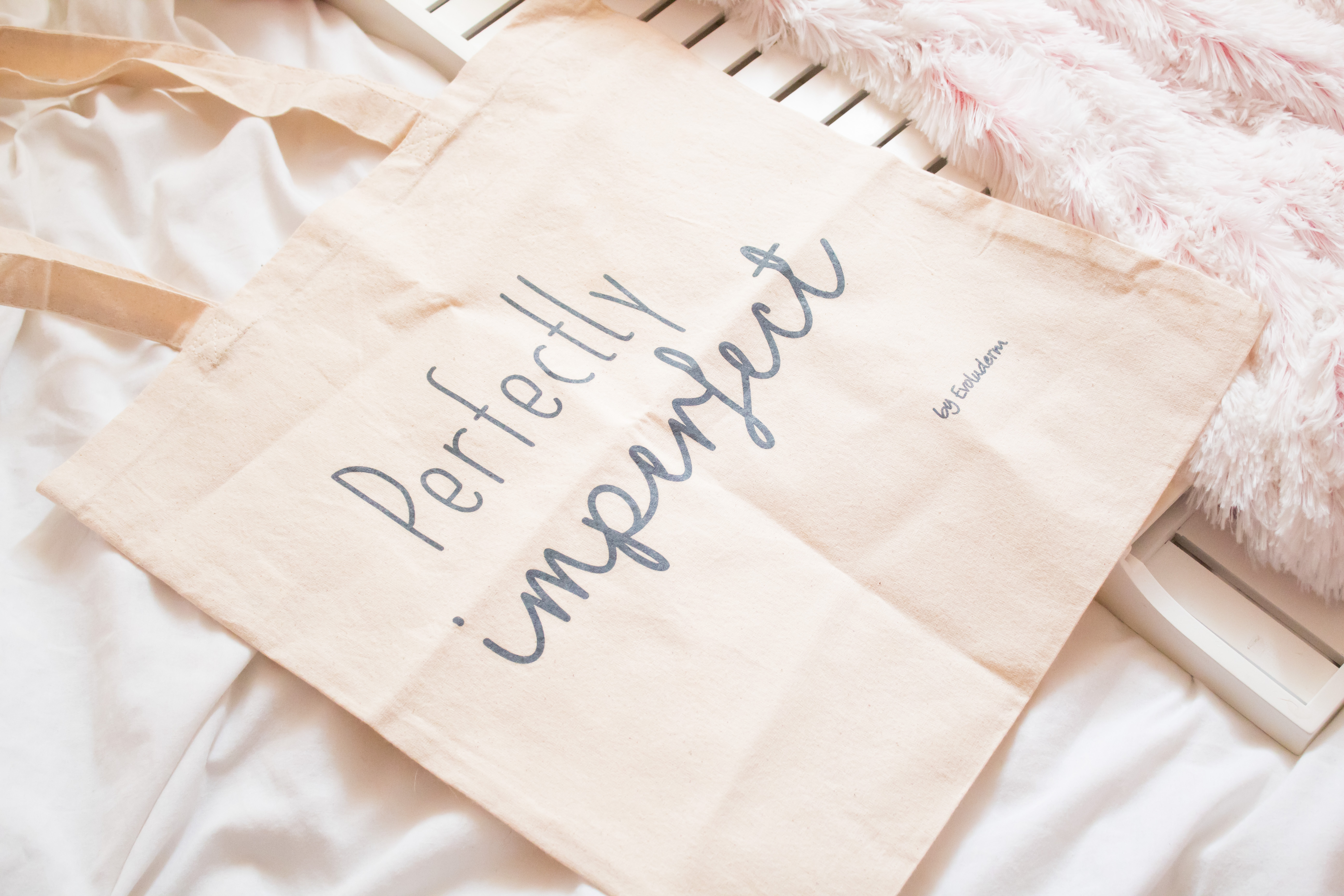 To top it off I they also sent me this super cute tote bag!
I have honestly fell head over heels with Evoluderm. After each use of their products i felt like i had been well and truly pampered. Not only do all the products smell great, they're also so affordable!
I'd love to hear if you've tried any of their products in the comments below!
*This post contains gifted items for review purposes. All opinions are my own.