For a little relaxing treat a friend and I booked a pampering spa day break at Champneys Springs. Champneys has always been on my list of spas to visit, so when it was mentioned there was no question where to book.
We booked the spa break for a Saturday which I expected to be mega busy, seeing as anyone who works a 9-5 job would choose to go on a Saturday. Luckily I was pretty wrong, well it seemed like I was. As its such a big place it didn't seem too busy at all.
The spa day package we booked included -
Welcome breakfast which was a pleasant surprise upon arrival.
Buffet lunch.
Access to the facilities and classes.
Thalassotherapy.
a 25 minute treatment of our choice each.
With arrival from 10am and use of the facilities until 6pm, it seemed as though everything was included in the price.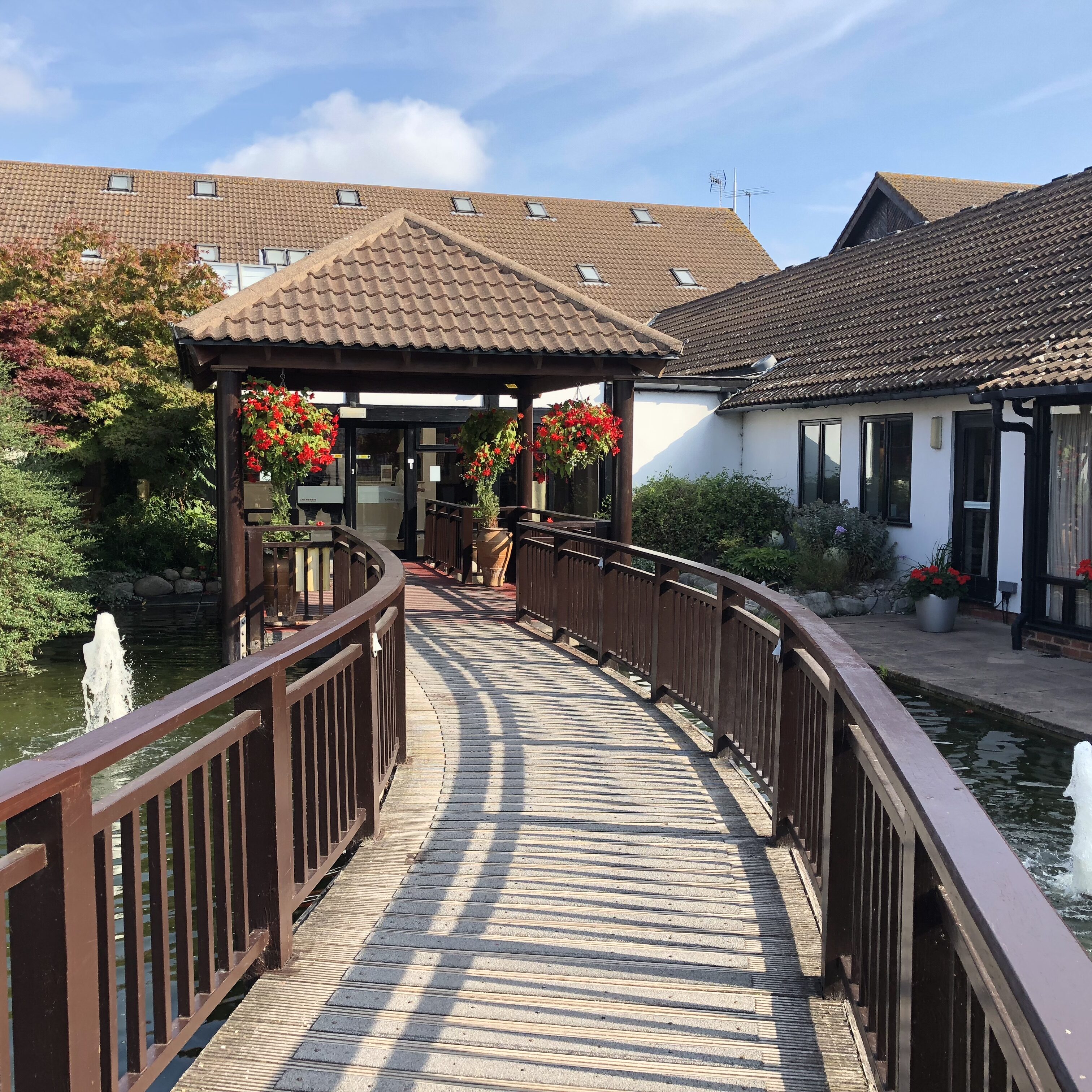 Arrival
Upon arrival we were greated by the lovely reception staff who talked us through everything included. They had us sign some papers, handed over a robe and some flip flops each and handed us over to one of the therapists for a tour around the spa.
The spa itself was stunning, from before you even entered all the way to the beautiful grounds surrounding it.
The therapist that gave us a tour was super helpful and let us know exactly where everything was. She then guided us to a complimentary arrival breakfast. The breakfast consisted of fruit, a few crackers and toppings, tea, coffee and fruit juice. It was a pleasant surprise as we had no idea a welcome breakfast for day visitors was included.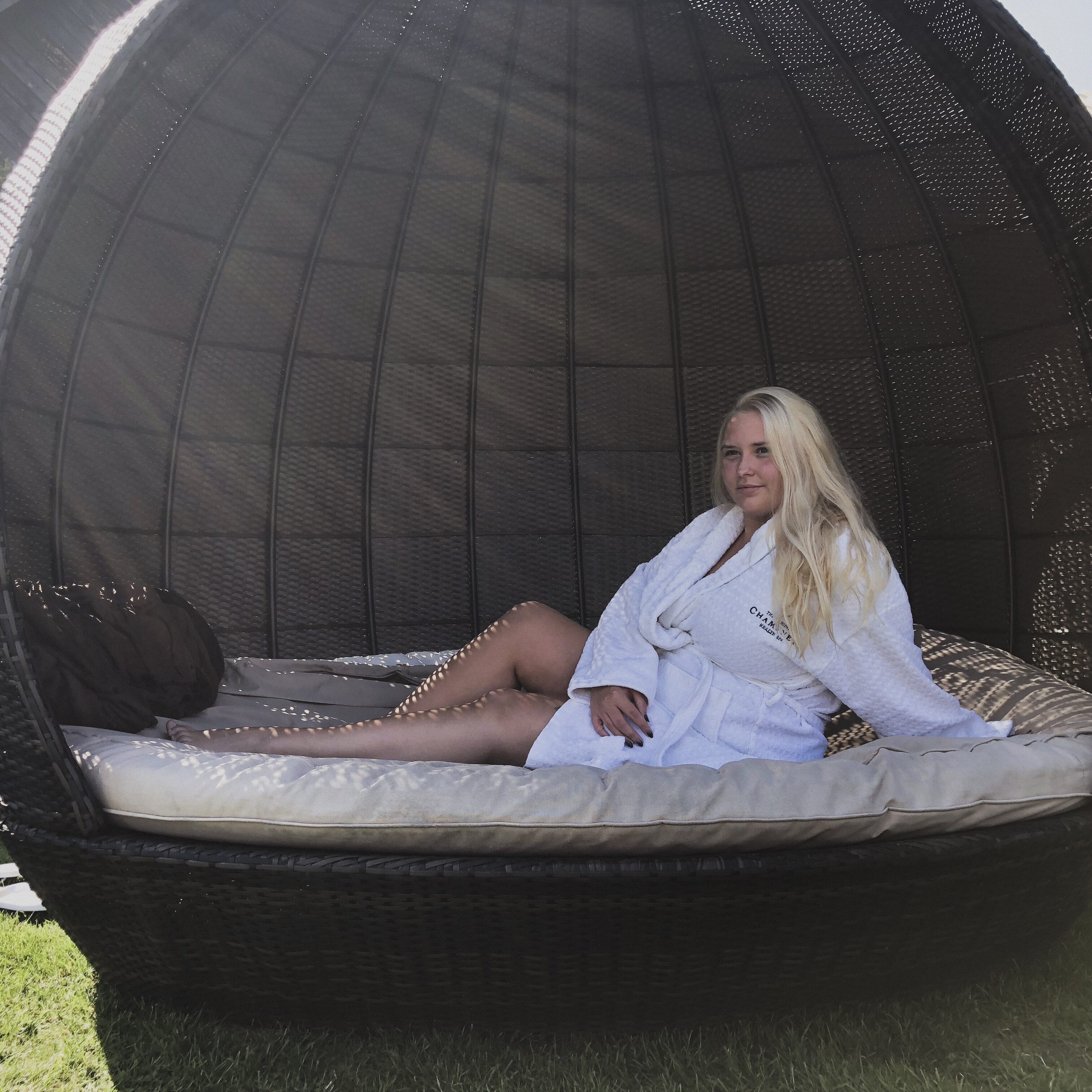 The spa
As you entered the ladies changing rooms there was what seemed like an endless supply of towels and lockers. As you ventured further into the changing rooms there were also showers, a relaxation room (for those much needed naps after treatments!), a sauna and steam room.
The pool area its self was pretty basic but it had everything you needed, including a super relaxing Jacuzzi!
You could be super healthy and do some lengths or be lazy and relax on one of the pool side loungers.
Personally I opted for being lazy in the pool rather than swimming lengths, relaxing on a lounger before going into the Jacuzzi. I was feeling pretty rubbish on the day and didn't want to push myself so what better way to relax?!
Even though the spa its self was fairly busy the pool area never seemed too busy.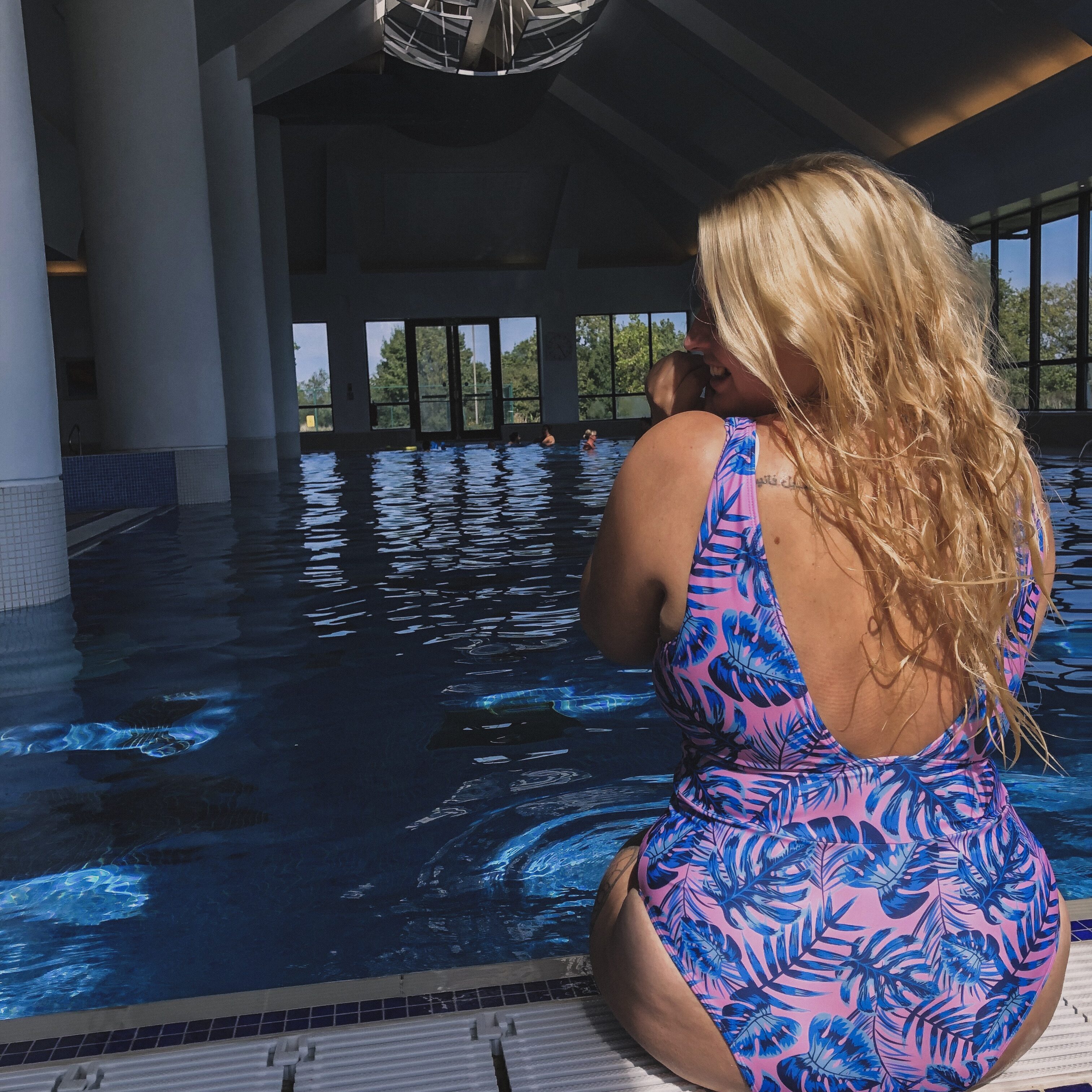 Treatments
Our spa day price included one 25 minute treatment each of our choice. I opted for a back and neck massage and Alice opted for a head massage.
The treatments were pre booked for us at an afternoon slot of 3.30pm. Prerfect we had plenty of time to relax before our treatments.
When it was time for the treatments we were shown to cosy waiting rooms according to our last names either A-M or N-Z.
Once our names were called we were shown to incredibly relaxing treatment rooms for our massages.
I had the choice of a full body massage or a back and shoulder massage. I chose a back and shoulder massage as I have sooo much trouble with my left shoulder and I'd been feeling incredibly tense.
The massage its self was incredibly relaxing! It definitely helped with the dodgy pain in my shoulder and all the knots in my back, neck and shoulders! The therapist finished the massage by applying a layer of muscle gel to help with my aches and pains! The gel seemed to help that much that i'm debating getting myself some!
After the treatments we were both honestly ready for a nap! Which you totally could have had in the relaxation room by the way!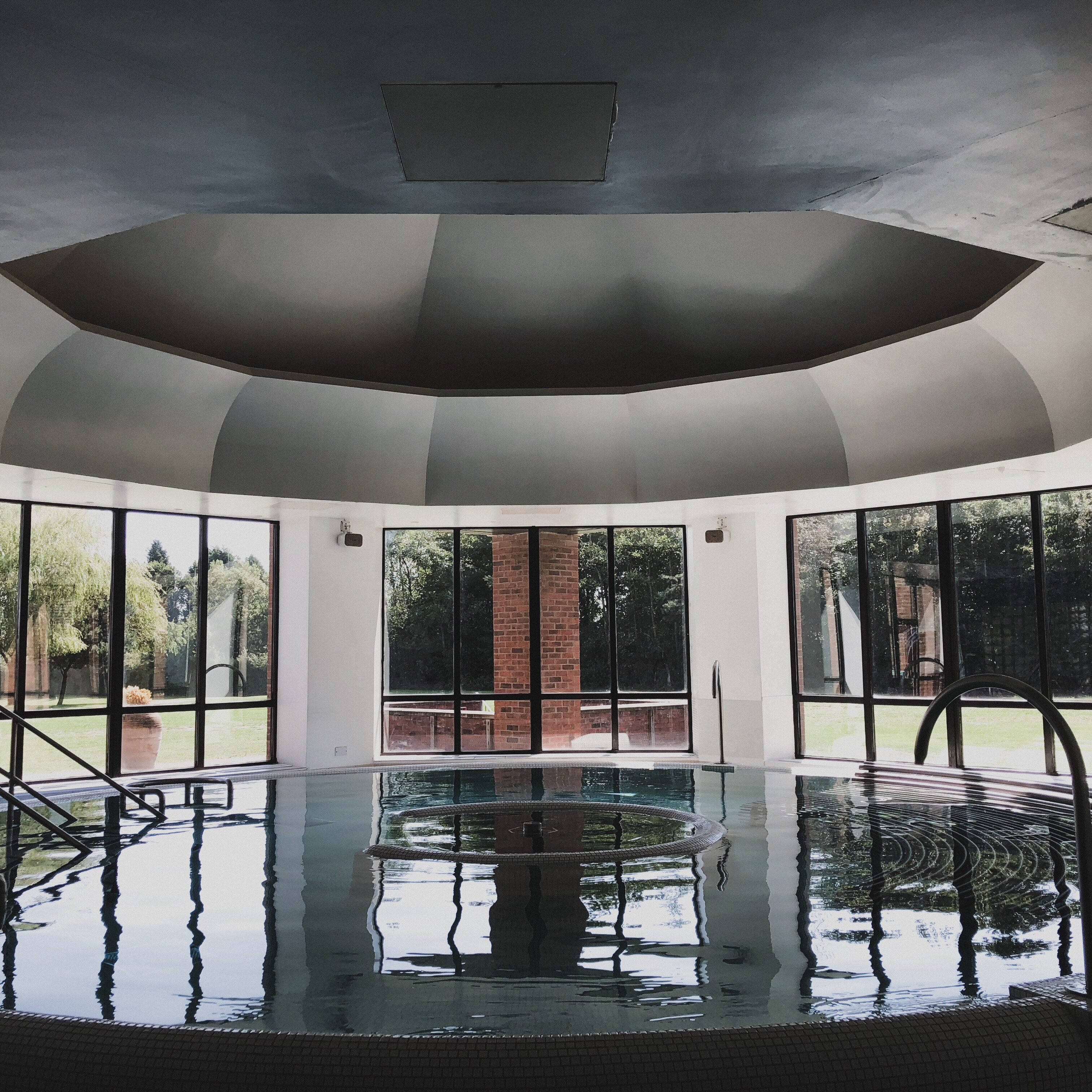 Thalassotherapy pool
Before visiting Champneys I had absolsutely NO IDEA what thalassotherapy was! I hadnt even heard the word before! Luckily im a little more well informed now, so I can share my new found knowladge and wisdom with you all!
So what is Thalassotherapy you say?
It's basically a giant jaccuzi pool with jets for specific areas of the body.
Enriched with warm saltwater rich in minerals like magnesium, zinc, potassium and iron.
It's ideal for re-mineralising the body and aiding the detoxification process.
A great treatment for muscle and joint problems
Is beneficial for stress reduction and relaxation.
Can increase metabolism, improve circulation and help treat cellulite.
The thalasssotherapy pool was gorgeous (you can see above). Surrounded by windows with an amazing view of the beautiful grounds.
The session was set to last 25 minutes, but it seemed like we were in there a lot longer than that. Closer to 45 minutes to an hour, but i'm not sure if that was because there was so many of us.
Thalassotherapy was easily the most relaxing thing I have ever done!
As the jets target each specific area you can really feel them working. My muscles felt so relaxed even before getting out of the pool.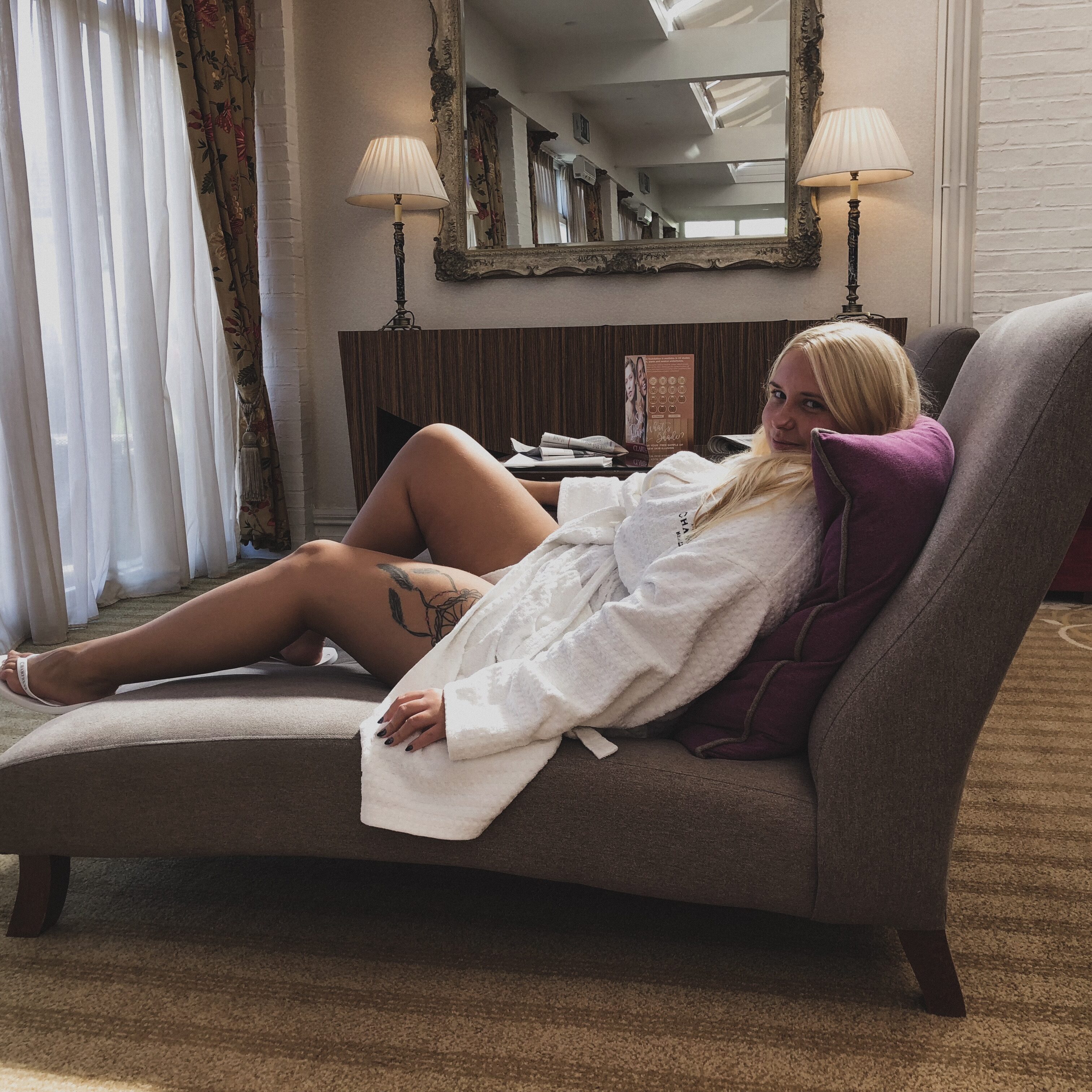 Food
I have to be honest here, I am a fairly fussy eater, I always have been. However that being said, normally where ever I go there is something I'll eat.
As Champneys is known as a 'Health Spa' the buffet lunch is classed as a healthy buffet. I was hopeful that there was going to be something on the buffet that I would eat.
Unfortunately the food is where I personally felt let down by Champneys. Not because there was nothing there I would eat, there definitely was. It was because everything on offer seemed bland. There wasn't much flavour to any of it. To me it seemed as though they'd stuck too much to the idea of it being 'healthy' that they had forgot that healthy food can be tasty too. Sadly this was the case throughout the buffet even when it came to the hot food. Not only did the 'hot' section of the buffet lack in flavour but it was also barely even warm.
Now this being said the food its self was edible, but could have easily been a lot tastier.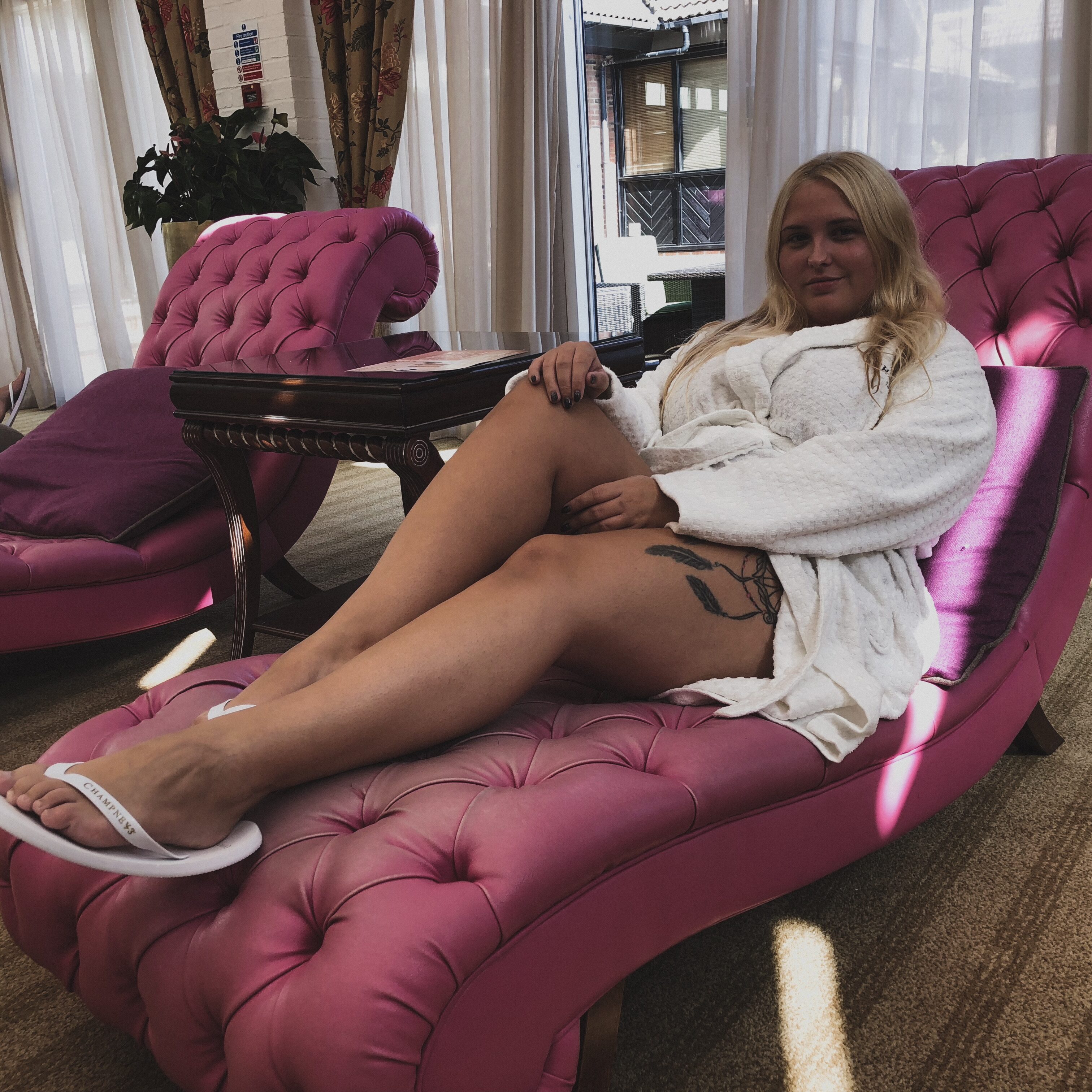 Overall I had a lovely day at Champneys Springs, I felt incredibly relaxed and pampered by the time I left. Honestly I felt that relaxed that I slept like a baby that night!
If I was to recommend one thing for you to do at Champneys it would have be to have thalassotherapy! It was the most relaxing experience I have ever had and personally I would go back to Champneys just to do it again! My poor tense and achey muscles felt looser and possibly the most relaxed they'd felt in a long time.
The only thing that Champneys could improve on (in my eyes) would be the lunch buffet, they could easily make it much better with a little flavour and seasoning.
Champneys Springs Spa is definitely worth a visit and is in an easy to get to area if you live in Leicestershire and the midlands. There's also some amazing offers they have on so keep your eyes peeled.
Have you visited any of the Champneys Spas? Or is there anything else you'd like more information about Champneys Springs? Feel free to let me know in the comments section or drop me an email.