When a friend of mine that sells Tropic skincare offered to gift me some tropic products to try I was super excited.
Tropic was a skincare brand I'd heard bits and pieces about, but never really looked into myself.
Tropic prides its self in being freshly made, cruelty free and natural. Founded by Susie Ma, tropic uses the best of what nature can offer to create products that are kind to your skin. It's also a completely cruelty free brand, which is absolutely incredible.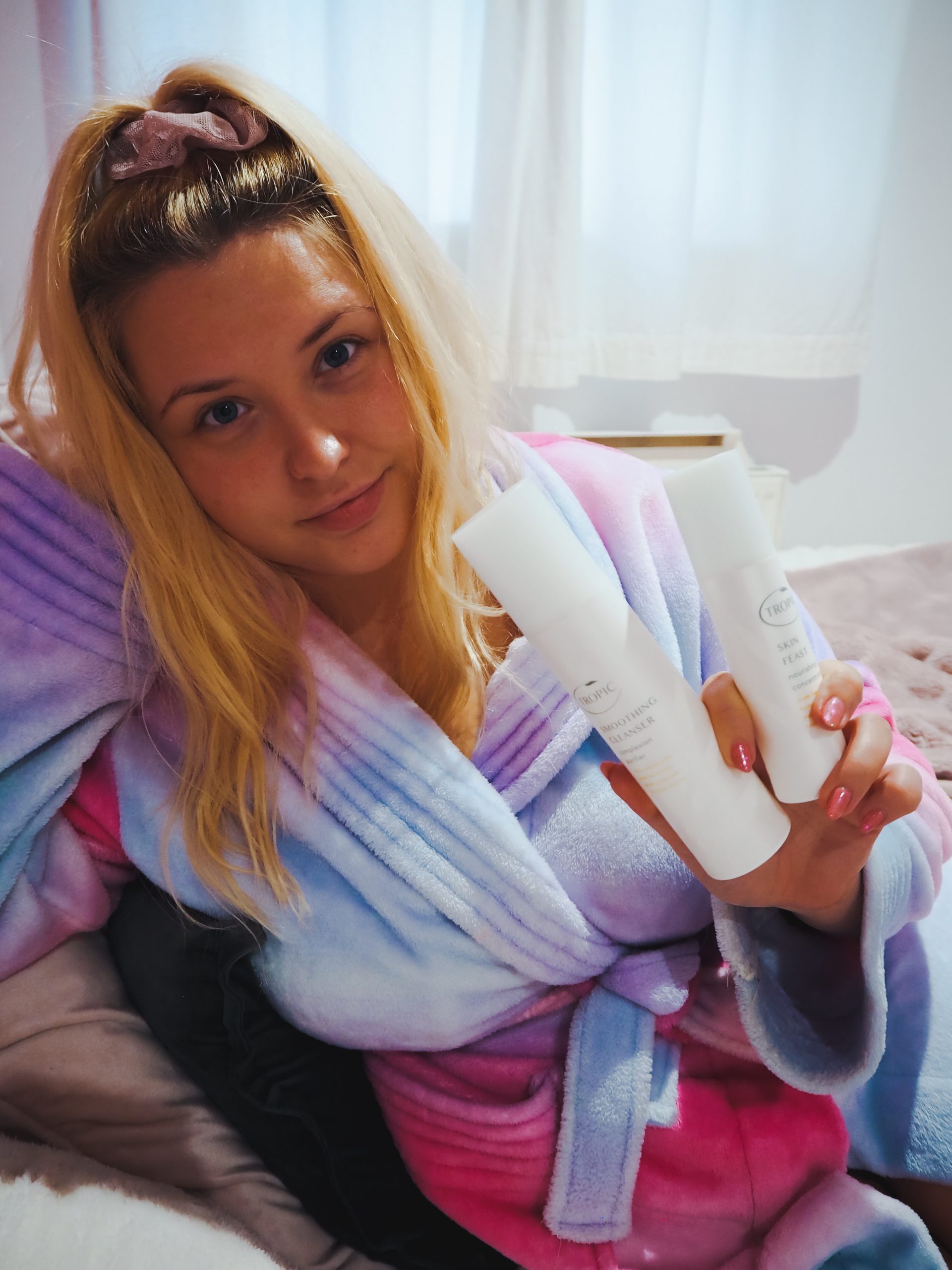 When Hannah introduced me to the all natural, vegan and cruelty free brand and told me how amazing the products are that she herself uses I couldn't wait to give them a try.
Hannah kindly gifted me
Smoothing cleanser complexion purifier

Vitamin Toner pore refining mist

Face smooth brightening polish

Skin feast nourishing cream concentrate

Super greens nutrient boost oil

Deep Hydration soothing cooling mask

Clear skin blemish fighting mask

Face lift brightening tightening mask

Bamboo flannel

Mask spatula
As soon as they arrived I couldn't wait to give them a try! Each and every product looked and smelled incredible, a real spa at home experience.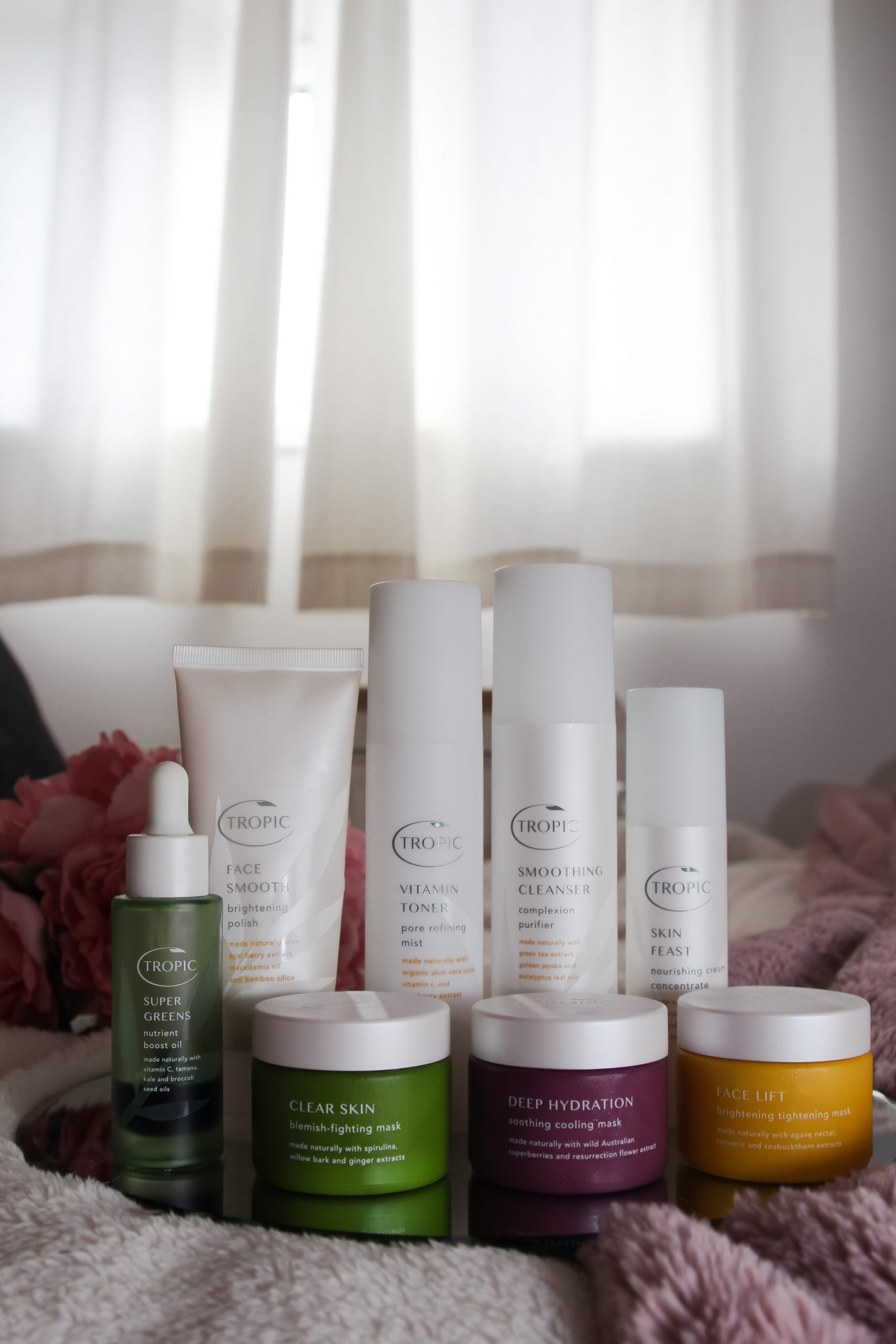 Smoothing cleanser complexion purifier
This cream cleanser turns to a luxury feeling oil as soon as it touches your skin, it feels lovely as you massage it in. It easily breaks down and removes your makeup. It has such a lovely sweet scent to it too! You really feel like your being pampered.
Honestly the more I used this product the more I fell in love with it. It's easily one of my favourite cleaners now.
However I did find that I did have to double cleanse with it if I was wearing particularly heavy makeup, but seeing as I usually double cleanse anyway i didn't see it as a problem!
I also usually use a face wash for my second cleanse as sometimes it just gives you that deeper cleanse that you need every so often, I'd love to see some sort of face wash option from tropic too!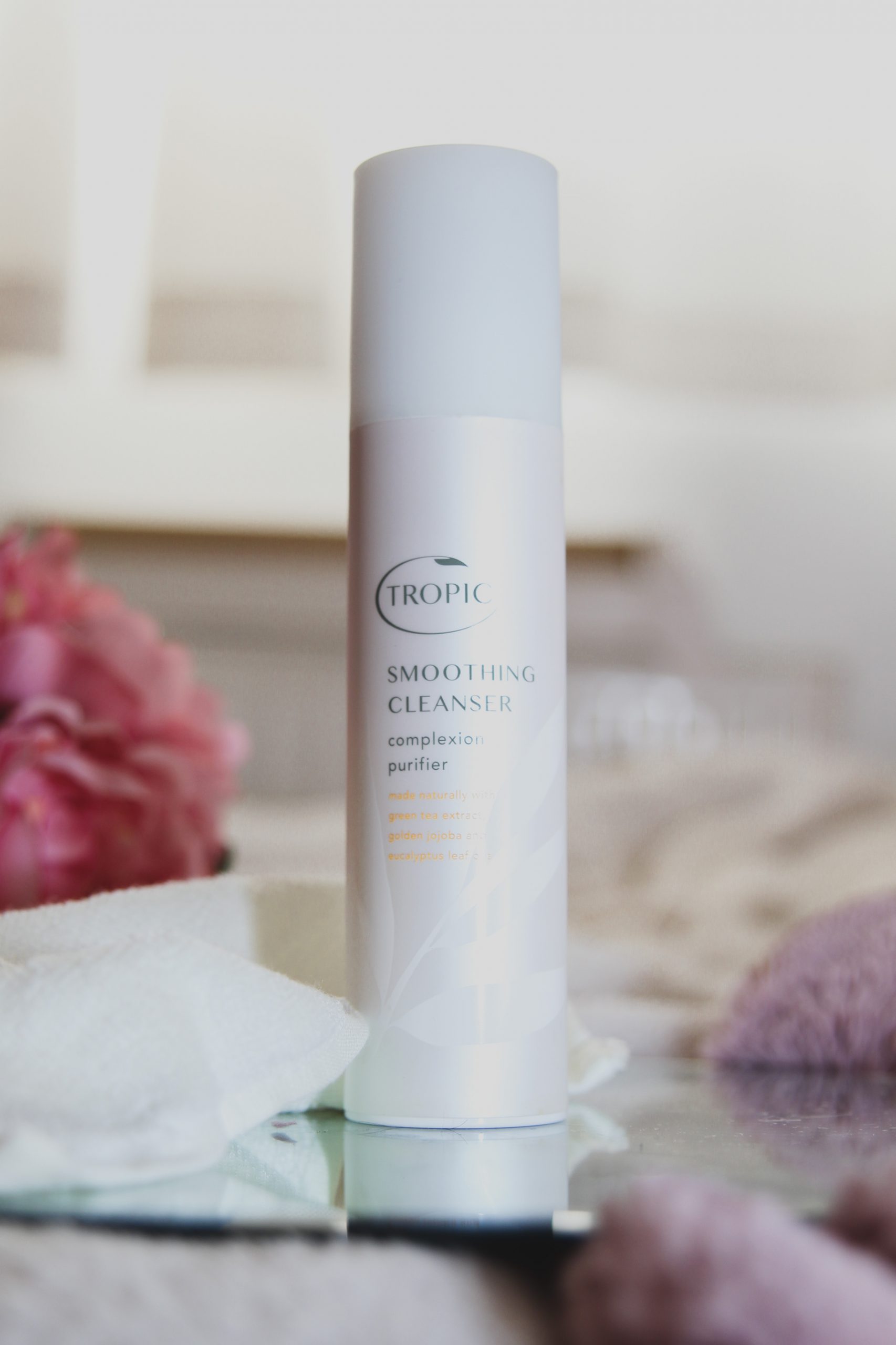 Face Smooth Brightening Polish
A little goes a very long way with this scrub! You need a very minimal amount rubbed into wet skin to polish away the dirt and dry skin. Has a very sugary and sweet scent that I absolutely love! My skin always feels super soft and smooth after this scrub.
One thing I can say is to make sure you use it on wet skin or mixed with water in your hands as it can be quite harsh if you use it on dry skin.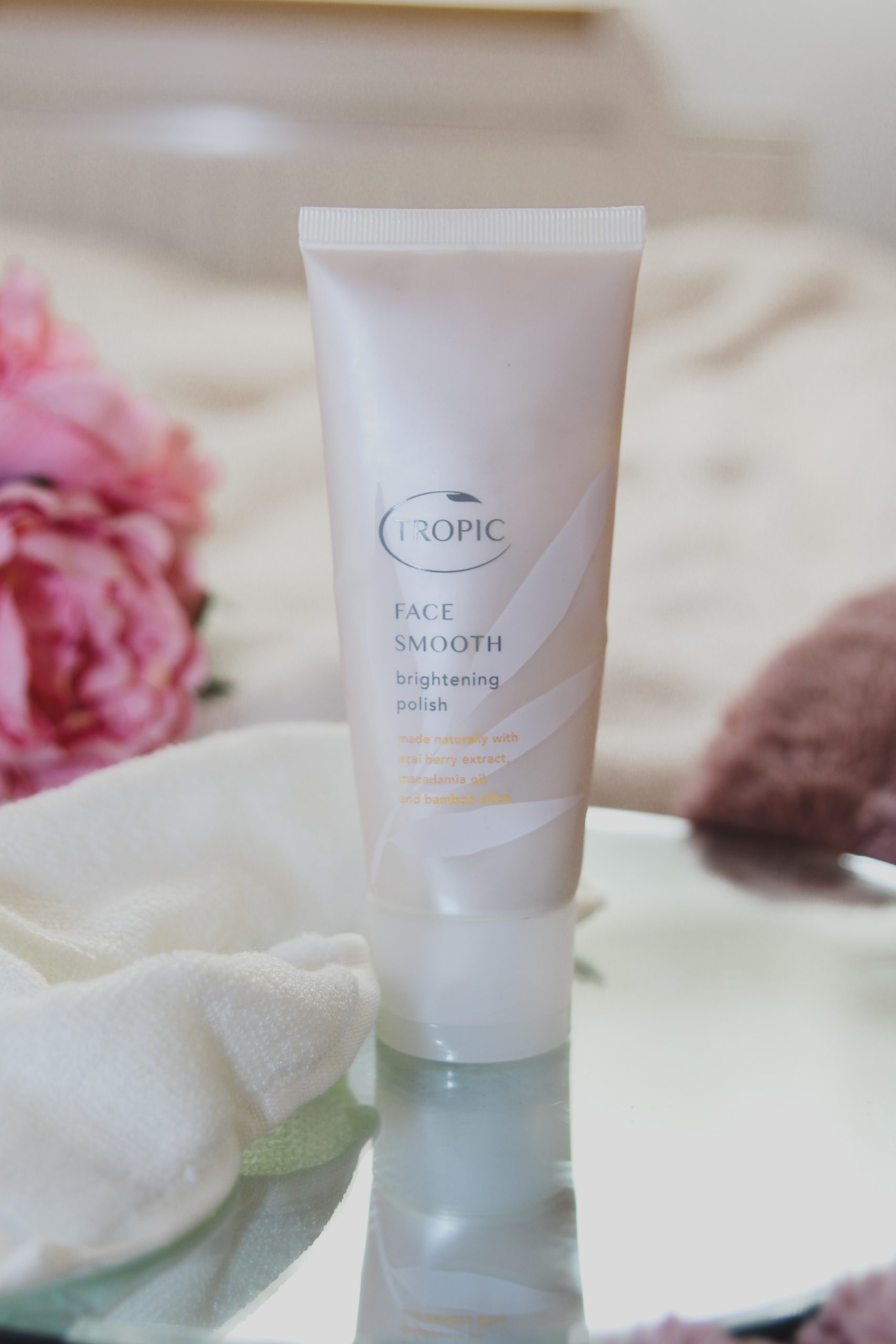 Deep Hydration Soothing Cooling Mask
This is one of the products I was looking forward to trying the most as my skin is usually fairly dry during the colder months!
And I have to say it did not disappoint! It is easily one of my favourite tropic products that I would happily buy myself.
The mask has a yummy berry scent to it almost good enough to make you want to eat it. It instantly soothes and cools skin when it's applied. Within 20 minutes your skin feels incredibly soft and hydrated. Anyone with dry or dehydrated skin needs to try this mask.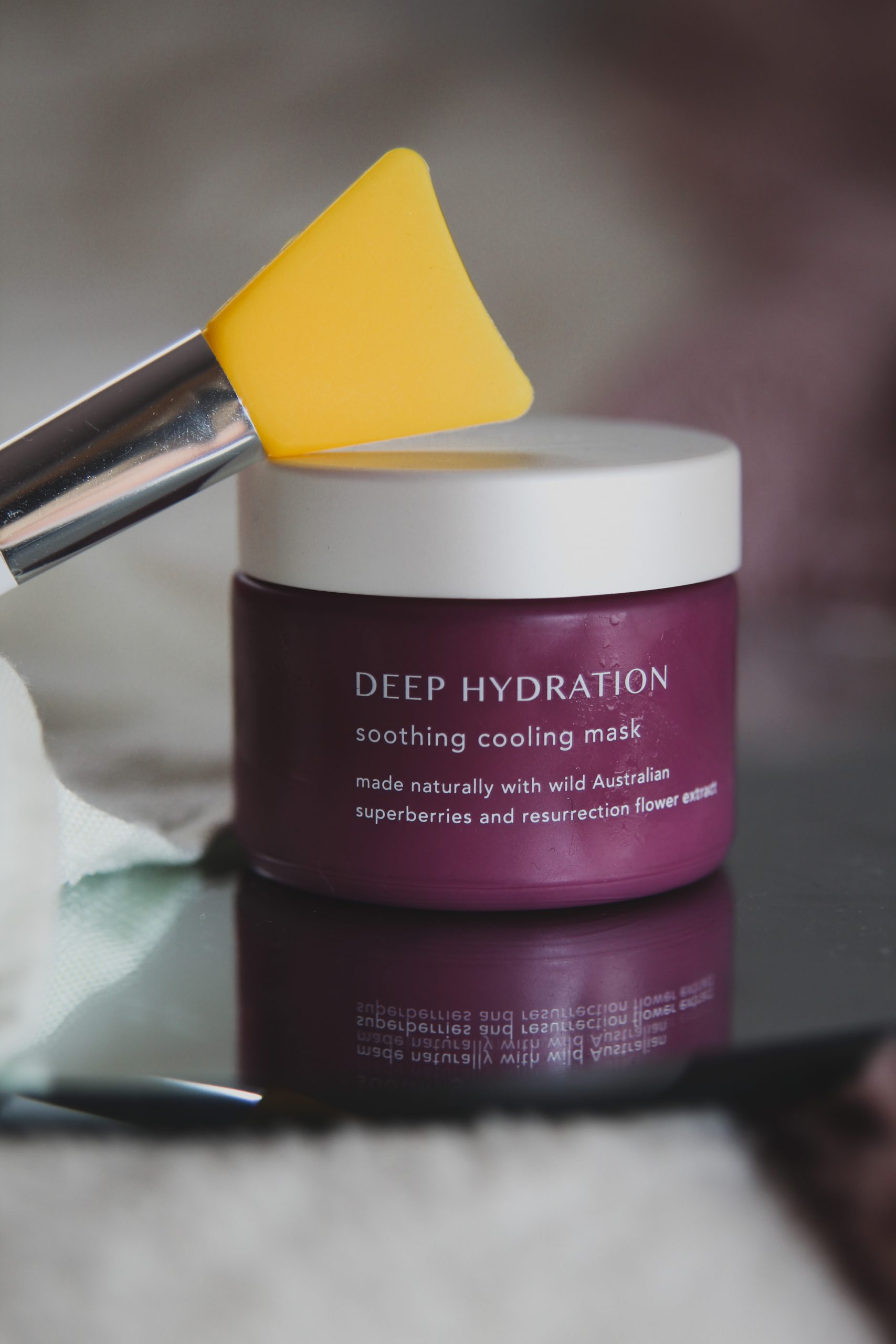 Clear Skin Blemish Fighting Mask
As I've been suffering from hormonal acne since coming off the depo injection I was really looking forward to seeing how this mask preformed as not much helps with acne when It appears. Honestly I always go back to the same few products as soon as it flares up.
Tropic have done a fabulous job with this mask, its fairly thick in consistency, has a what I want to say minty smell to it and as it dries you can see it working. To my surprise after just one use of this mask my skin was looking clearer, acne looked less angry and pores were looking a cleaner! I'd say this is another favourite that comes in handy at that time of the month where my spots tend to break out.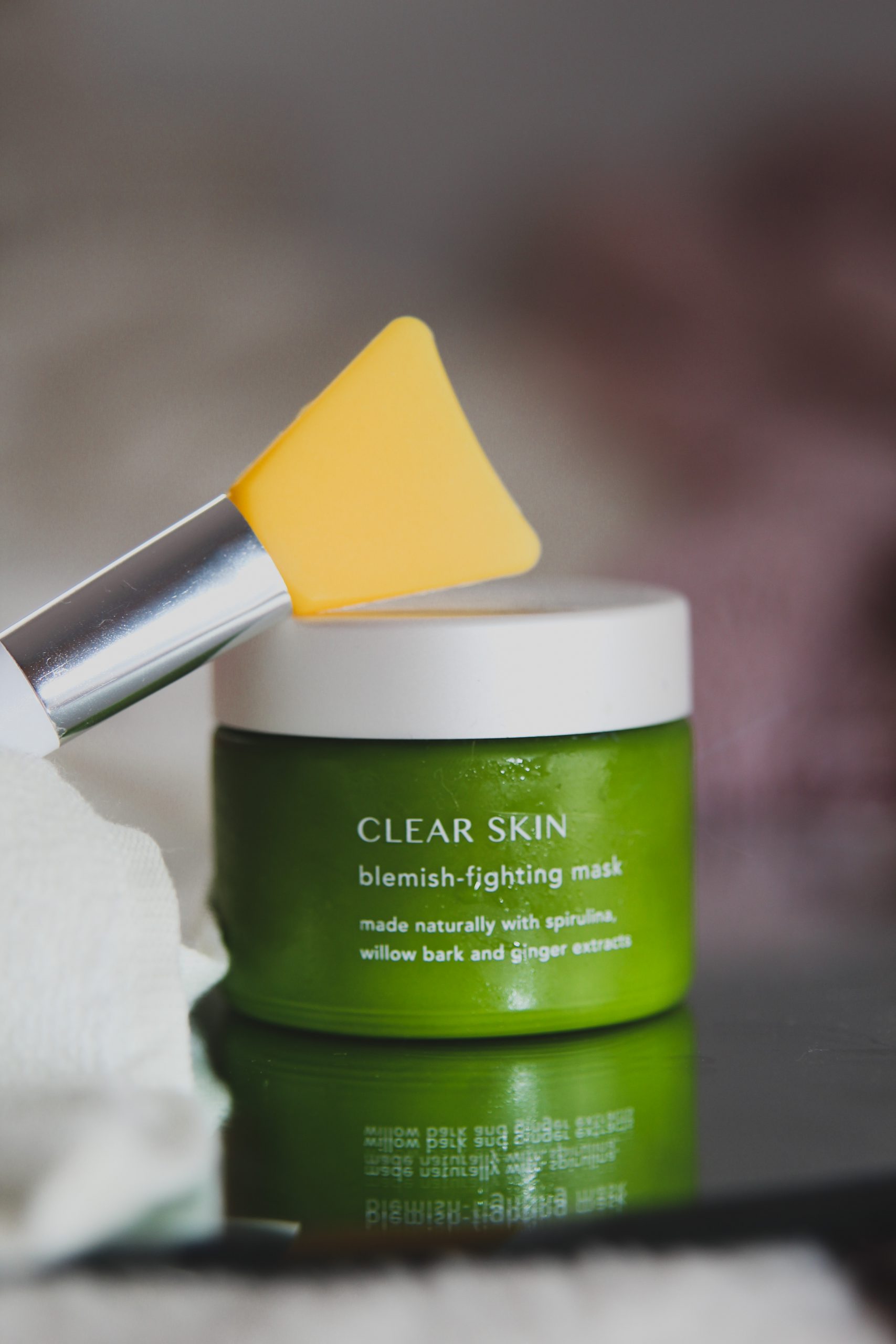 Brightening Tightening Mask
This is probably the mask I used the least as the other two specially targeted issues I was having with my skin. But it didn't make it any less of a mask! The brightening tightening mask is perfect for firming and brightening skin. With this one I tended to use it during 'multi masking' for targeted areas!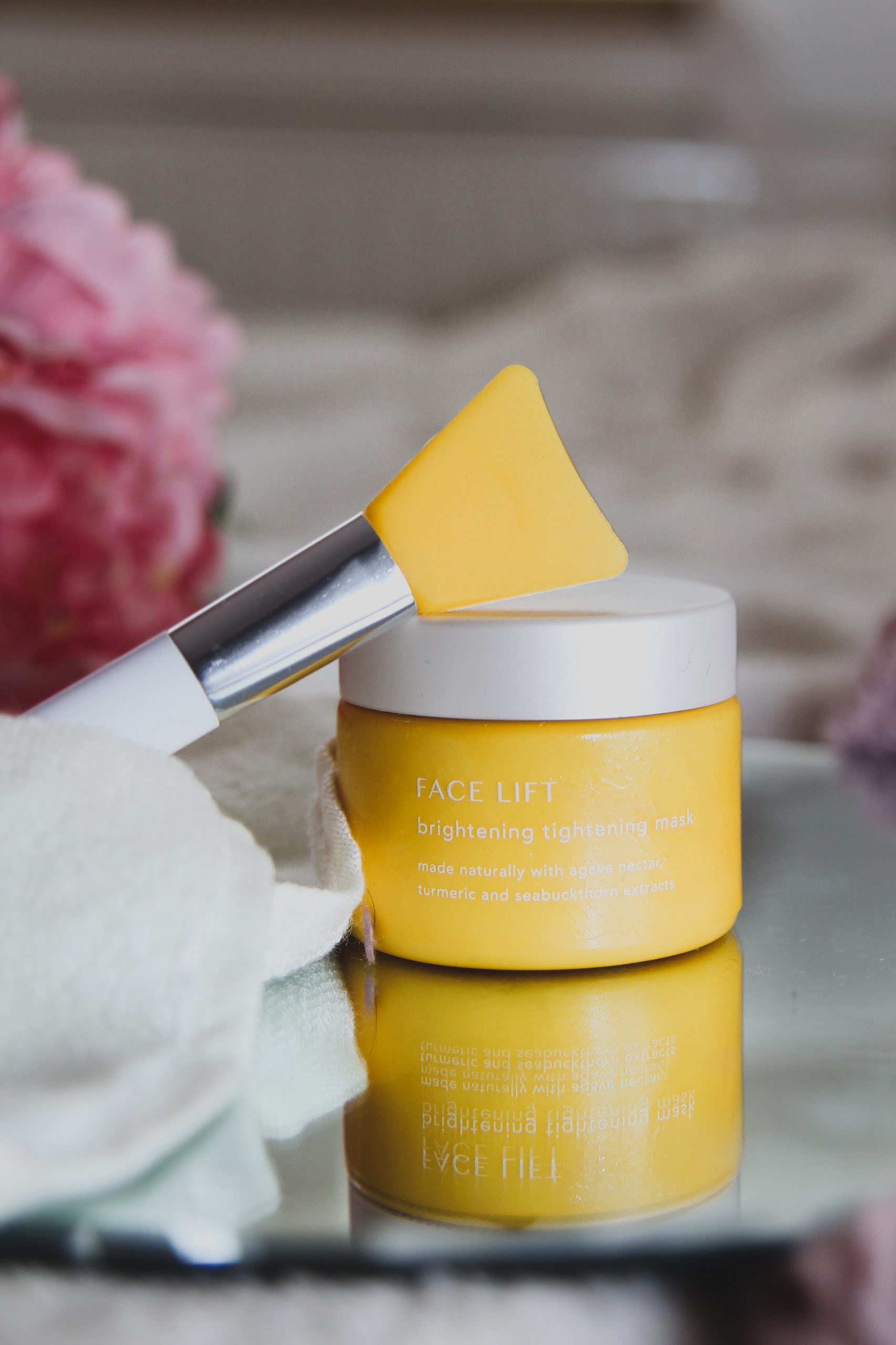 Vitamin Toner Pore Refining Mist
Honestly half the time I completely forget to use a toner, but whilst using the tropic range I didn't forget once. The toning mist is lightweight and feels hydrating on your skin as soon as you spray it. As with the other products it has such a lovely refreshing scent to it. A truly pampering experience.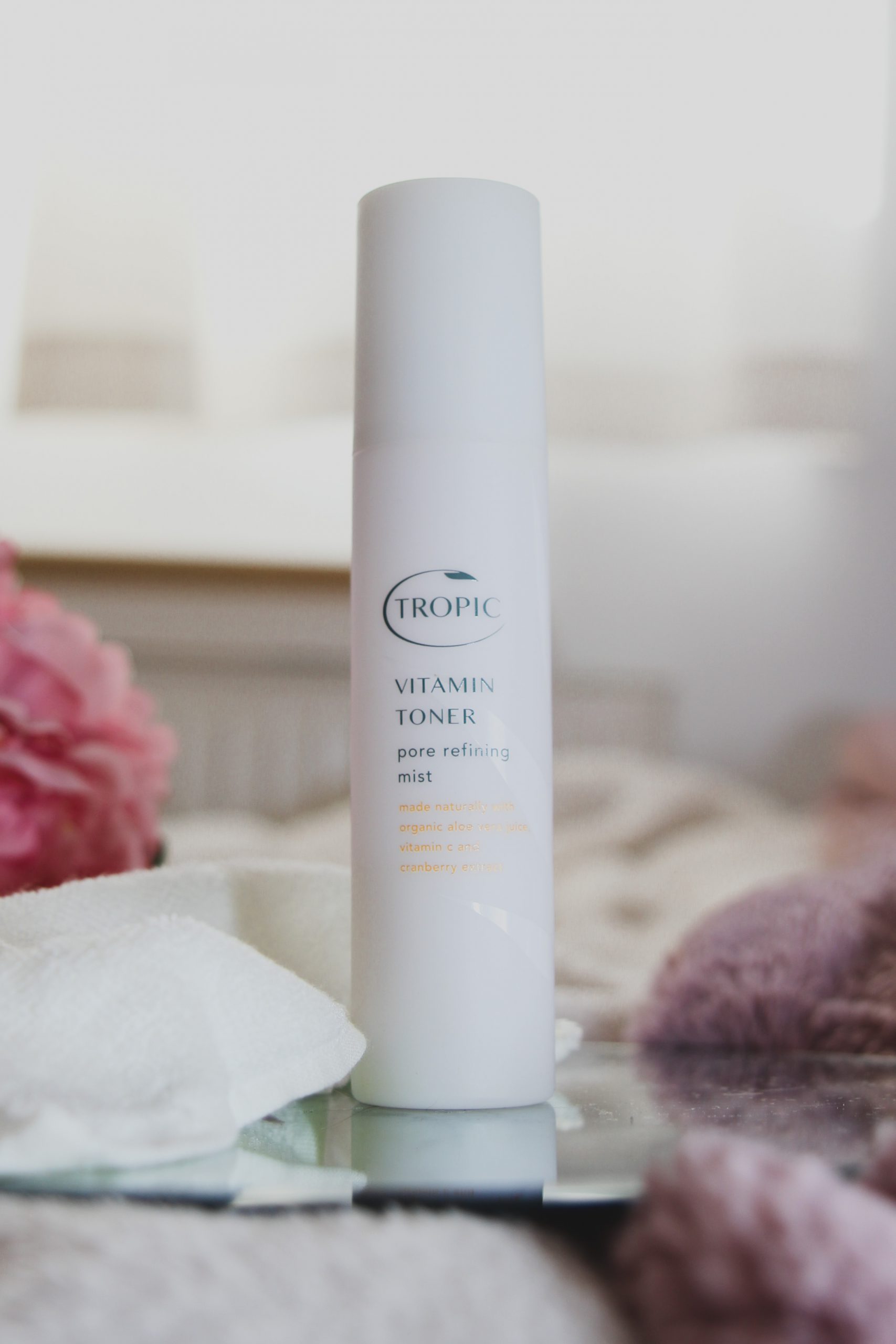 Skin Feast Nourishing Cream Concentrate
Tropics moisturiser feels luxurious as soon as it touches your skin, it's incredibly hydrating and leaves skin feeling super soft without leaving a oily residue on your skin. Which for me is big thing, I cant stand a moisturiser that doesn't sink into my skin, it feels like its not doing much. But this one feels like its working wonders on my dry dehydrated skin.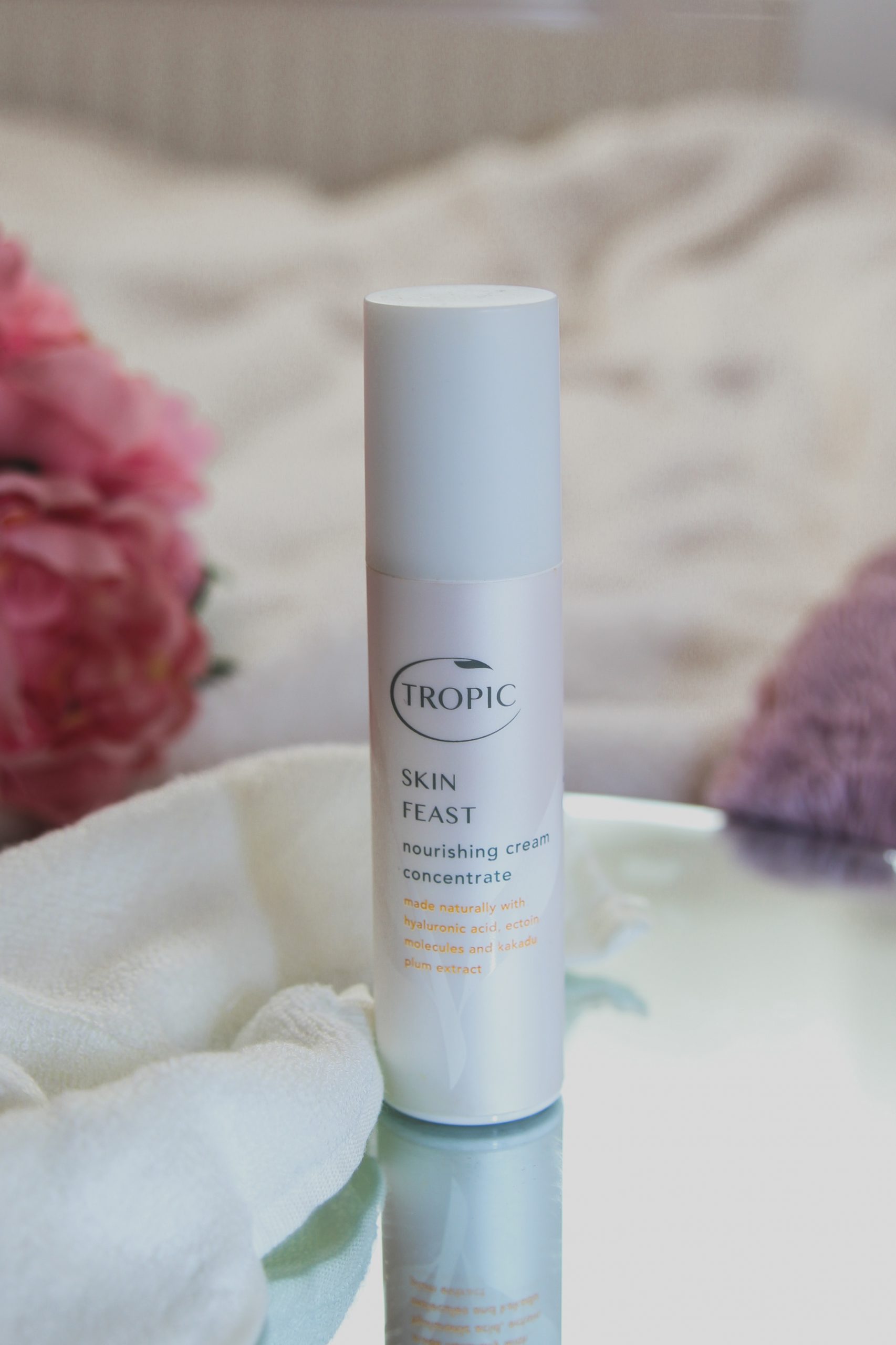 Super Greens Nutrient Boost Oil
I have to be honest I didn't try this straight away with everything else, I slowly introduced it to my routine after a few days. It has quite a strange strong 'green' smell to it. It really smells like its going to great for your skin but the smell did take a little getting used to.
It's lovely to massage into your skin, you really don't need a lot of it. I found that it really helped soothe my skin, my skin can be quite sensitive and red sometimes so I found that this really helped with that.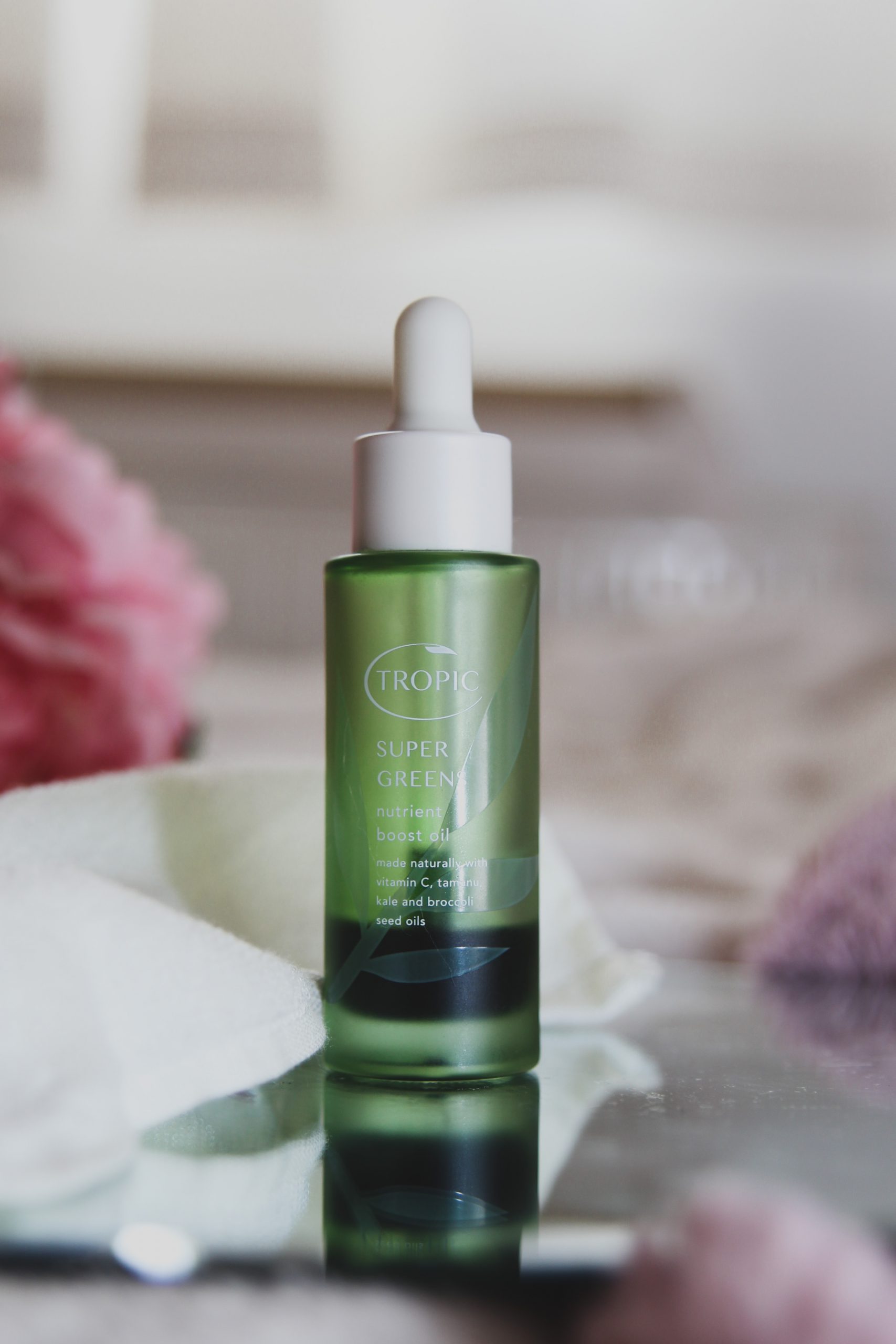 Bamboo Flannel
If your like me you read this thinking "a flannel made of bamboo? Surely its quite rough?". Actually you couldn't be more wrong. I honestly could not believe how super soft the bamboo flannel was. And super effective too.
Mask Spatula
The mask spatula was incredibly handy seeing as the masks come in small pots rather than a squeeze tube. It's also sooo easy to keep clean as its a spatula rather than a brush which is what I'd usually use and they can be a pain to clean masks out of sometimes!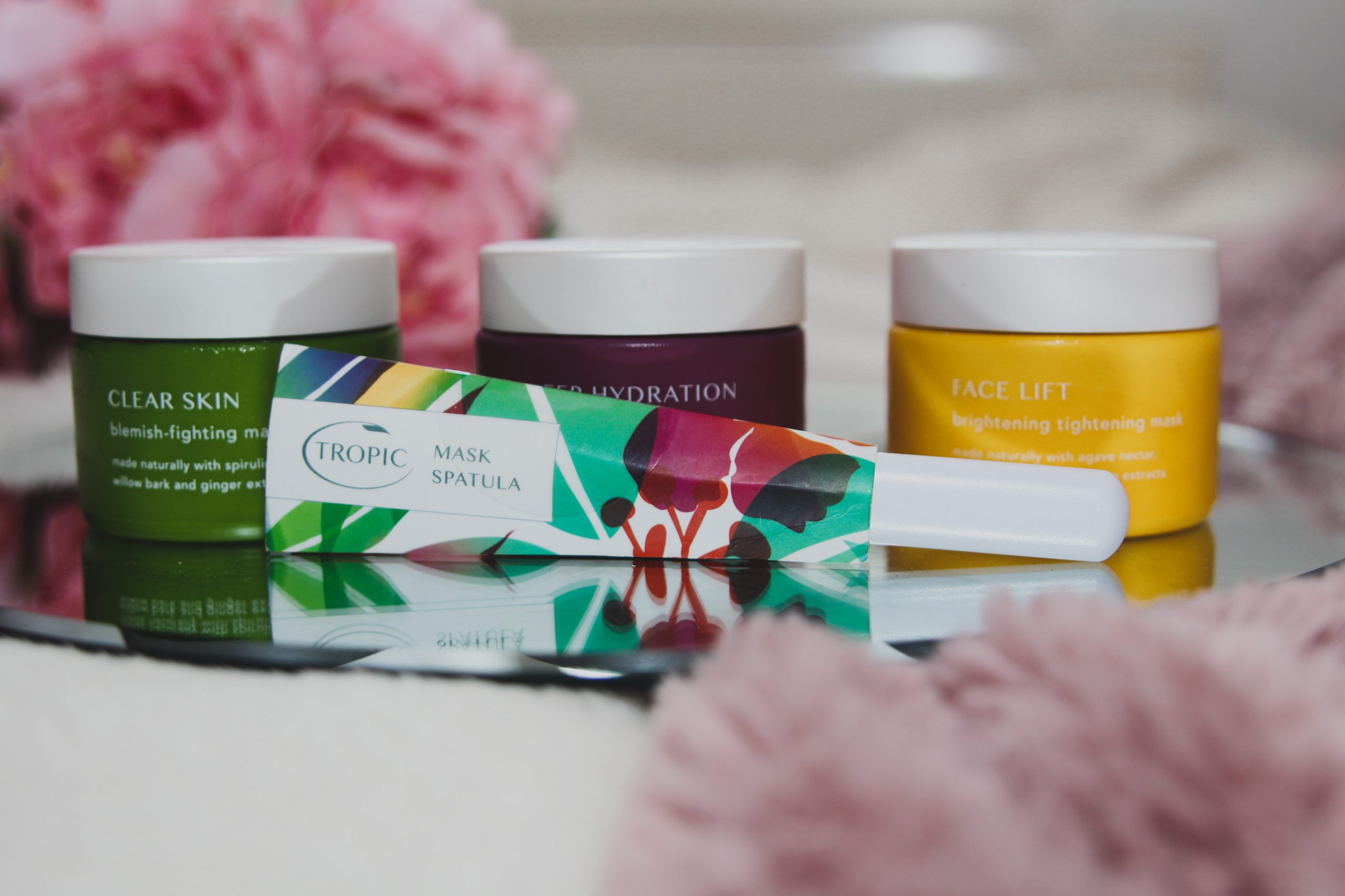 Overall I'm SO impressed with Tropic skincare, everything Hannah sent me to try has been such a treat. I really felt like I've been having a proper spa like pamper every day but it doesn't take long at all.
I honestly never thought that natural skincare could ever be this good. It really has blown me away the quality of everything is so amazing and definitely worth the money. I would definitely recommend you try Tropic Skincare!!
I have to say though one thing I have missed is my Foreo Luna. Unfortunately there's certain things that cant be used with it and as the Tropic cleanser turns fairly oily I haven't dared use it with it. But that being said I would definitely Keep using the Tropic cleanser and maybe add an extra wash cleanser afterwards as my second cleanse so that I can see the benefits of my Foreo Luna again.
Tropic is definitely a brand I cant wait to try more of in the future, I've well and truly fell in love with the products I've tried as the benefits and results have been wonderful.
You can shop Tropic with my incredible friend Hannah here.
Also check out her Instagram here to see what Tropic products she's using herself and to keep up to date with the newest products they have to offer.
*The products in this post were gifted. However as always all words and opinions are my own.