I've always brought trusted Mac lipsticks up until recently when I discovered NYX and became utterly obsessed. So I thought I'd go ahead and compare them both as I couldn't quite decide which one I love more!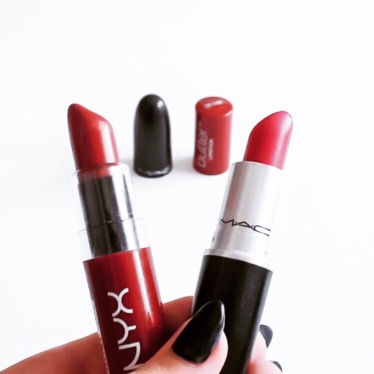 Mac Lipstick
Amazing colour
Looks great on
Some types can be incredibly drying out for your lips
Often goes on pretty thick feeling quite heavy on your lips
Matte colours can be incredibly drying on your lips
Smells great
Lasts a fair while
Fairly expensive
NYX Lipstick
Good colour
Really light, feels like you have more of a balm on rather than a lipstick
Really moisturising on your lips
Colour lasts a good amount of time
Nowhere near as expensive
Large range of colours
I can't comment on the matte colours as I haven't tried them yet!
Incredibly smooth
Good smell
Overall I will still be using Mac lipsticks but I am aiming to try more of the NYX colours and lipstick types as the ones I've tried so far are absolutely amazing!
X