The Cleo Lyzy Vibe set is a lovely triangle bra that's part of the Cleo range by Panache. It's a non wired option for those who don't like to wear wired bras or a perfect option for lounging around the house. As a massive fan of non wired bralettes I couldn't wait on test this one out, as some I've tried in the past haven't been that supportive, where as others have been amazingly supportive and comfortable.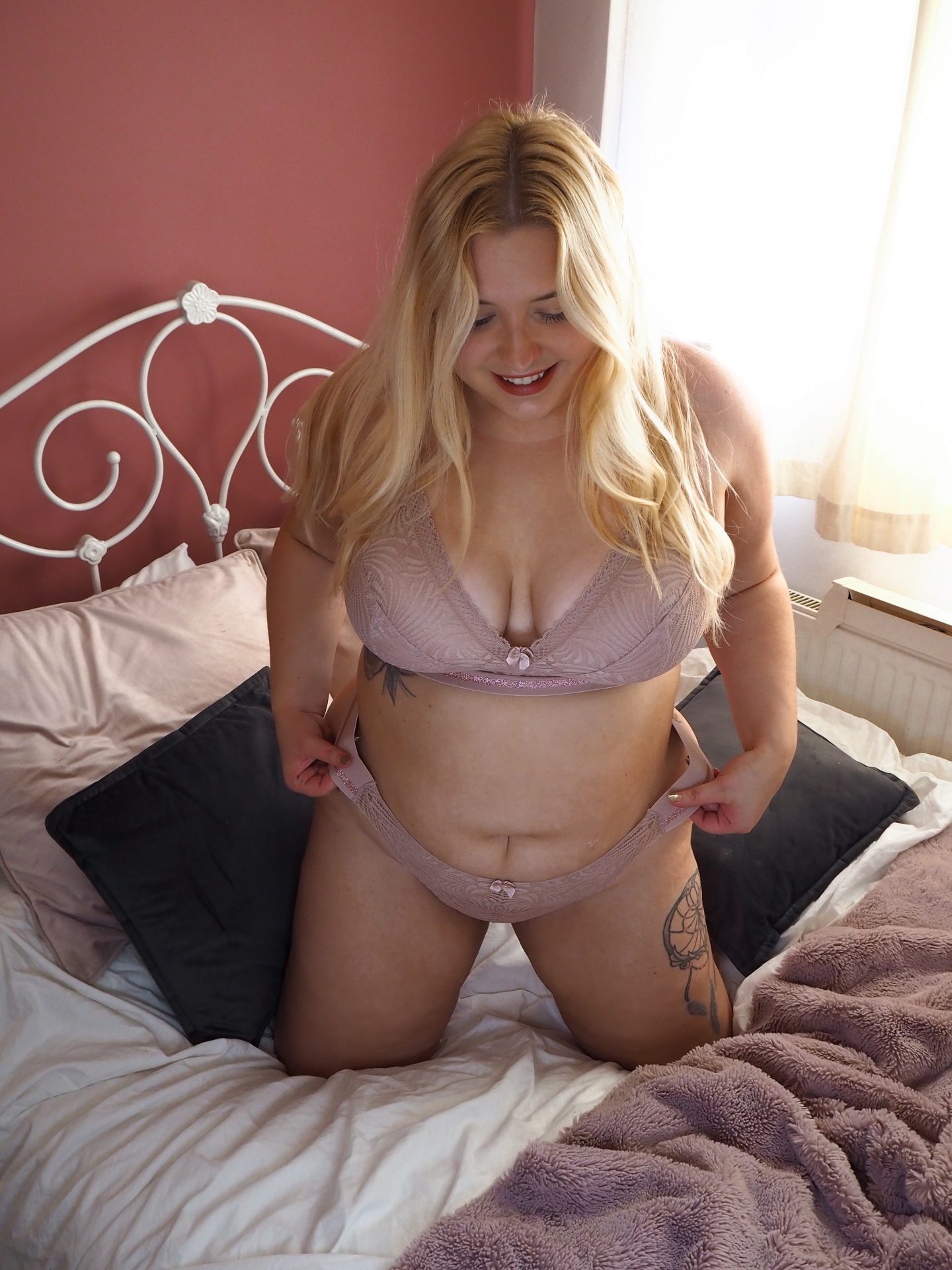 Lyzy Vibe Triangle Bra In Vintage
The Lyzy Vibe triangle bra in the shade vintage is a gorgeous blush pink shade with sparkly rose gold detailing on the elastic underband. All of the materials used to make this bra are SO soft and comfortable. The cups are made up of 3 parts that give great rounded shape and forward projection.
Lined stretch lace cups are brilliant for any time during the month as you breasts fluctuate in size.
I usually find that a lot of elastic under bands roll up, but I was pleasantly surprised by this one as it's stayed in place every time I've worn it so far.
As with most bralettes the straps on the Lyzy Vibe are fairly thick. However unlike a lot of fuller bust bralettes I've seen, the straps are actually fully adjustable and they have J hooks. I'd you're not sure what J hooks are they're a little hook on the backs of the straps that you can hook together to make the bra into a racer back style. This gives you even better support from the bra and honestly for the first time ever I actually preferred how this bra fit with the J hooks done up!
Lyzy Vibe is available in UK 28-38 back sizes and D-H cup sizes and is £27. It's available ble in the following colours – vintage, zebra print caramel and azure(blue).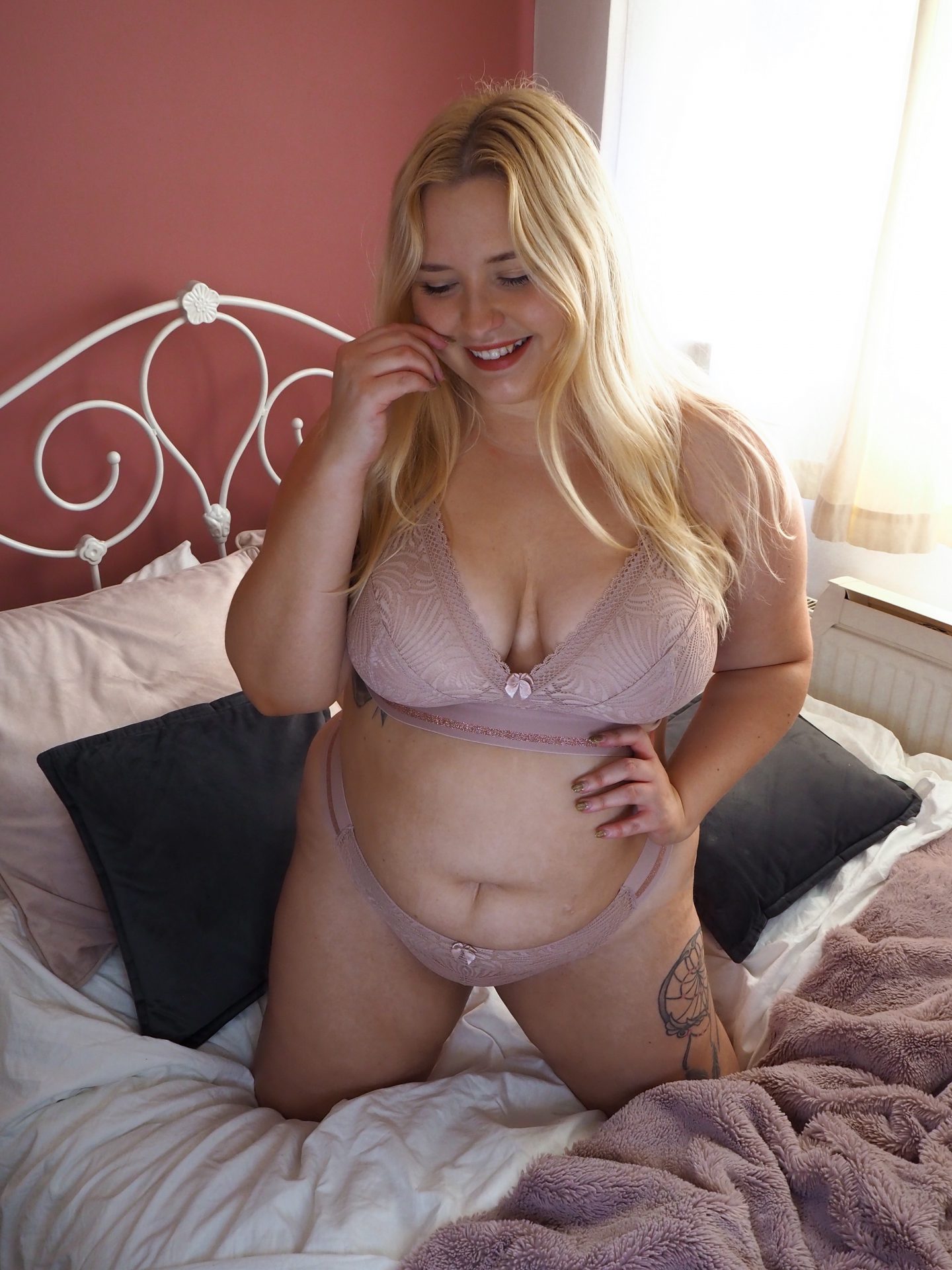 Lyzy Vibe Brief
The Lyzy vibe actually has a matching brief available, which I've not really seen when it comes to non wired bras. Usually you can only buy the bra on it's own, so it's great to see an actual non wired set. The Lyzy vibe brief which is also in the stunning vintage shade with rose gold detailing are more of a tanga style brief than a full brief. Which personally I really like. They're made out of the same lovely lace at the front and back with stretchy elastic at the side. These super soft and stretchy briefs fit so well and are the perfect knickers for every day wear or lounging around the house.
Lyzy Vibe briefs come in UK sizes 8-18 and are available in the same colours as the bra.
I think I may have found another favourite non wired bra, or should I say set. It's so refreshing to see a brand actually offer a non wired bra set rather than just the bra. Not only is this non wired bra set super soft and comfortable it's actually super pretty too, again something that doesn't seem that common for fuller bust non wired bras.
If your looking for something that's both pretty and comfortable to wear in or out of the house, I suggest trying the Lyzy Vibe triangle set!
You can shop Lyzy Vibe here.
*The post includes PR Products. However as always all words and opinions are my own.
*This website uses affiliate links, this doesn't cost you anything extra but I may make a small amount per sale.