If you saw my post on Instagram not long ago you'll have seen that the Panache ana was one of my favourite bras, until the one I had was too big in the cup.
So the lovely guys at Panache sent me a surprise parcel with a few of their different plunge bras! Plunge bras are probably one of my favourite shapes when it comes to bras, I find that they fit under so many things so well and give such great shape and support. They kindly sent me two of their Ana bras – as I mentioned before this style is one of my firm faves so I'm a little bias with this one. And two bras from their Sculptresse range. The Roxie bra – this one is also absolutely gorgeous, so let's get a bit more into the bras!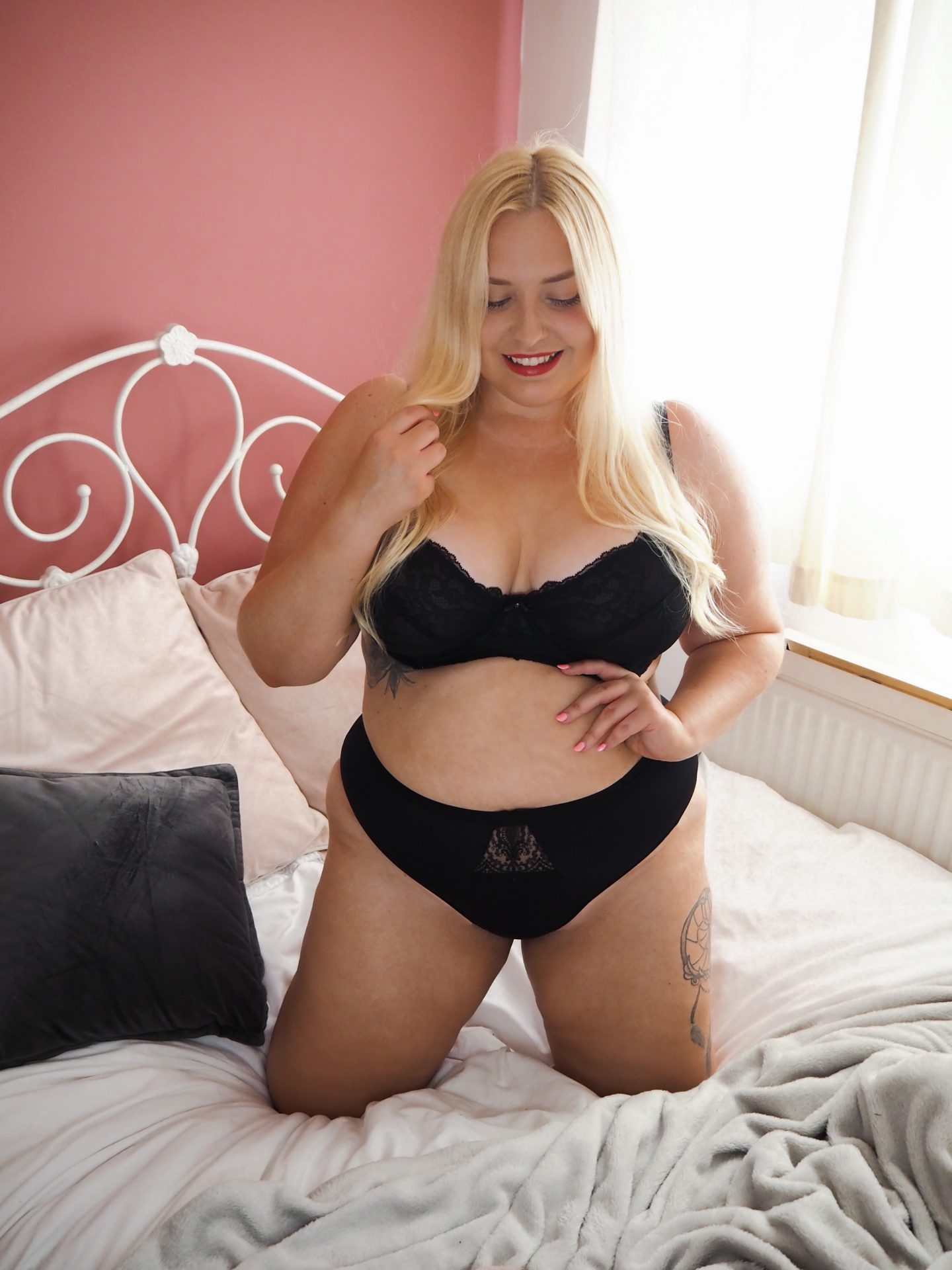 Panache Ana
As I've said twice already, the Panache ana is one of my favourite plunge bras, it's effortlessly sexy stretch lace makes the bra feel so extravagant whilst being incredibly simple. It's a brilliant bra for everyday wear. It gives the wearer great natural protected shape whilst the three part cup with inner side sling gives uplifted support.
The Ana has great support whilst being a fairly low cut plunge. It sits so well underneath low cut plunging tops whilst keeping your boobs supported and projected.
The black and vintage (I'd say it's a very pretty blush pink shade) are both stunningly. The soft mesh and lace make this bra so comfortable and easy to wear. This style goes up to a H cup and runs from a 28 to a 38 back. I would highly recommend this to plunge bra lovers!
Sculptresse By Panache Roxie
Before receiving my parcel I didn't actually realise that Sculptresse by panache existed! It's a completely new side brand to me. The Roxie bra is a similar plunge shape to the ana except it's made of soft microfibre with a decorative lace overlay instead of mesh and lace. The Roxie in my opinion also has ever so slightly more coverage than the Ana but it's still just as beautiful!
The microfibre that it's made of is soft and stretchy making it incredibly comfortable to wear. The 4 part cup with side slings makes sure your bust gets a forward projected and centralised shape and projection. It also has a j hook to offer extra support, personally I don't think I've ever tried a j hook! But I think I might give it a go on this one!
I luckily have the Roxie in both black and Misty rose (a stunning light pink pictured below) which are both absolutely perfect to wear. The black goes amazing under anything darker and the Misty rose goes perfect under lighter clothes.
With comfortable undersides that don't dig in and soft plush backed straps the Roxie is slowy becoming one of my favourite plunge bras. It's a dream to wear! Just like the Ana the Roxie bra comes up to a H cup and in a 34 to a 46 back.
Panache
Overall I'm super impressed with both Panache and Sculptresse by Panache. The quality of their bras is incredible, they're worth the money for comfort alone! But the support they give and how stunning their range is makes it an even better brand!
The black bras easily match any black knickers you put them with which is super handy. I just need to treat myself to some knickers that match the Ana in vintage and the Roxie in Misty rose!
You can shop the Panache Ana here.
And you can shop the Roxie Sculptresse by Panache here.
I've already got my eye on so many more styles from Panache! They do such a wide range of styles including plunge, wireless, balconette and full cup bras. I've heard amazing things about their Envy and Jasmine styles which I'd love to try!
Have you tried Panache or Sculptresse by Panache before? If so what's your favourite style?! I'd love to know!
*The post includes PR Products. However as always all words and opinions are my own.
*This website uses affiliate links, this doesn't cost you anything extra but I may make a small amount per sale.