If you've read my review on the Subtille Aurora set you'll already know I have a bit of a soft spot for Polish lingerie. Scrap that I LOVE polish lingerie. It's some of the most gorgeous, comfortable and well fitting underwear I've ever tried. The lift and support is absolutely incredible from what I've tried so far. I'd been wanting to try the Gorsenia Paradise set for a while now and when I spotted it on Brastop I just couldn't resist treating myself. So lets get into it.
Gorsenia is a Polish lingerie brand, that as far as I'm aware isn't available in too many places. So far I've spotted a few sets on Brastop (although there seems to be more and more each time I look on there). It's also sold on Amazon – which I really didn't expect at all. And the Lovely Rosie from Bella Rosa Lingerie has just started to stock the brand too. Everything I've seen from Gorsenia is absolutely gorgeous. The sets are really beautiful and delicate, which is a stunning sight for us fuller bust ladies.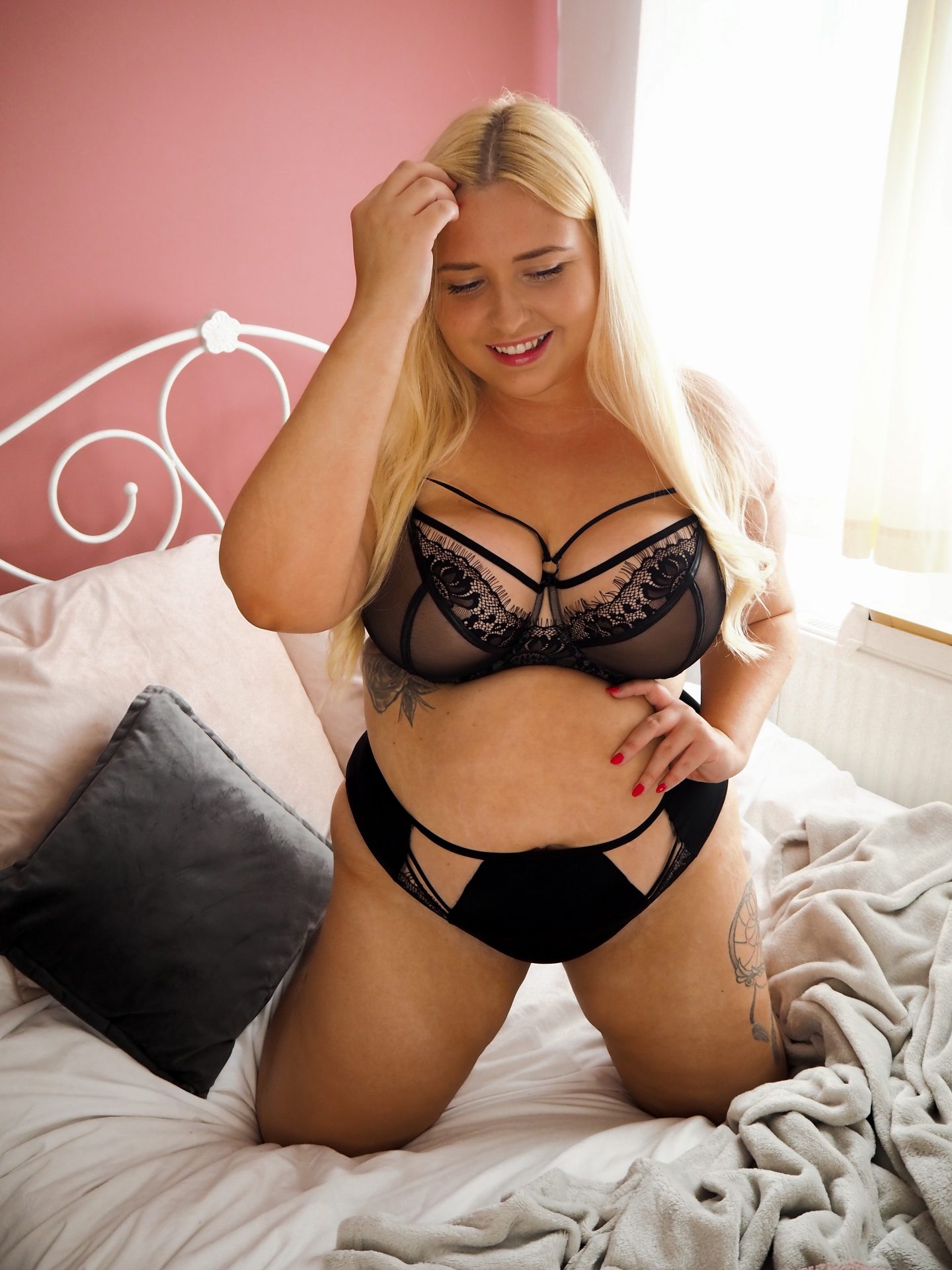 Gorsenia Paradise Blaconette Bra
The Paradise bra is a balconette style made from the most stunning and supportive sheer mesh with a lovely lace overlay and beautiful strapping detail that make it incredibly sexy. I actually ordered a few different sizes to try of Gorsenia as my size has recently changed yet again, and honestly I wasn't sure what cup size would fit. After trying a 34H, 34GG and a 34G I realised that the 34G was the one that fit me the best!
It gave amazing support and shape whilst making me feel so sexy and confident. In my opinion the bra comes up a little big in the cup which is why I needed a 34G. So I'd recommend going down a cup size in this one!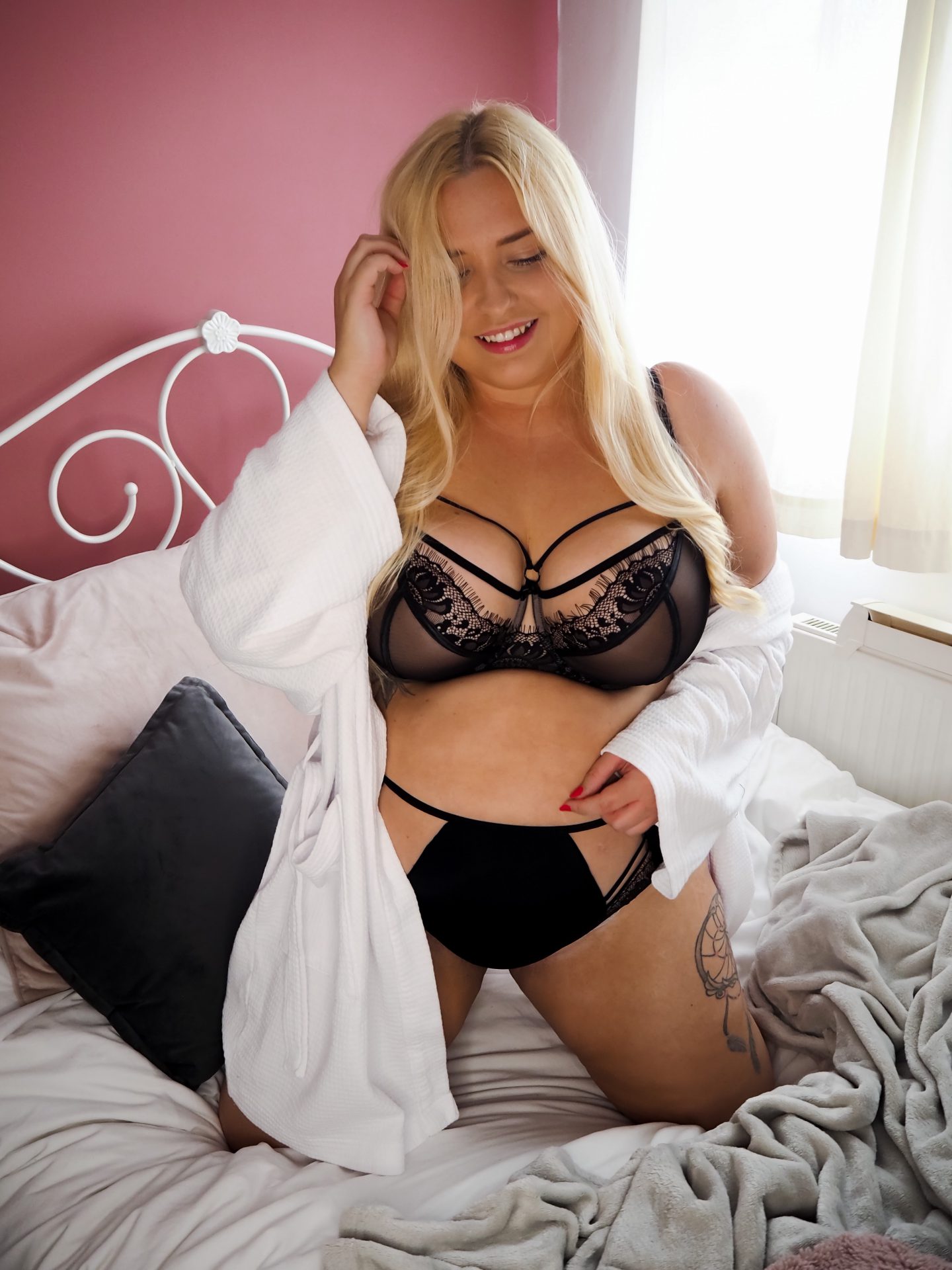 Gorsenia Paradise Brief
Since ordering I've realised that the paradise briefs come in both briefs and a Brazilian, however Brastop only had the briefs when I ordered them. The briefs have gorgeous mesh cut outs with overlaying lace to match the bra, making them so beautiful. In my opinion the briefs are lovely but I much prefer a Brazilian knicker. But that's just personal preference. Sizing wise I found that these came up on the smaller size. So I actually sized up on them for a more comfortable fit.
"We all deserve to feel sexy and confident in gorgeous lingerie, no matter what our size and shape! And Gorsenia Lingerie does just that."
I can happily say I really recommend Gorsenia underwear after trying out the Paradise set. We all deserve to feel sexy and confident in gorgeous lingerie, no matter what our size and shape! And Gorsenia Lingerie does just that. I've actually already ordered the Dakota set in blue from Brastop and have my eye on Palermo and Paradise in other colour ways! Once again the Polish lingerie did not disappoint!
You can buy the Gorsenia Paradise set in black here.
And the Gorsenia in all colours here.