Finding sexy underwear in bigger bust sizes is HARD. I'm not even joking. I'm one of those who loves a good kinky or sexy lingerie set. But since I've been measured I've found it SO HARD to find nice ones. I mean most matching sets in anything above a G cup don't even have matching thongs. What is that all about?! For reference I'm definitely a thong girl, I always find them the comfiest and I feel the most confident when wearing one over most other styles of pants. This is where Dear Scantily by Curvy Kate come in. Not only are their sets sexy as hell, some sets also come with matching thongs! I was kindly gifted the bra of the Dear Scantilly Submission set and I purchased the matching thong myself as I wanted to have the matching set.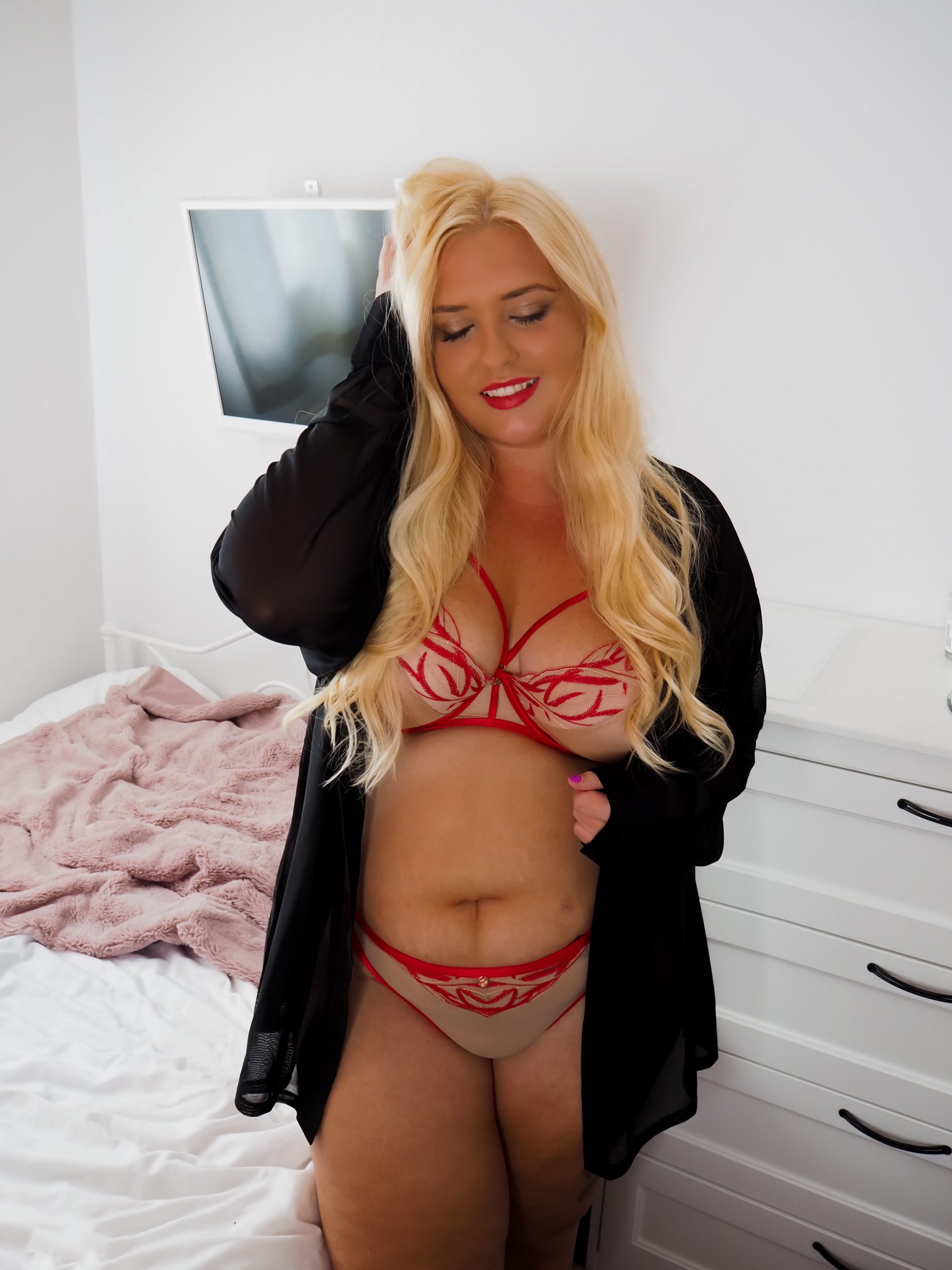 Dear Scantilly Submission
The Dear Scantily Submission set is a gorgeous nude mesh with stunning red detailing. The mesh itself is sheer enough to be sexy and leave a little to the imagination.
Along with the bra you have the option of a matching pair of briefs or a thong. Personally I'm much more of a tong girl so that's what I went for. The sides to the thong aren't that stretchy and dug in a little on my hips, so I went up a size in it. Typically now I've lost some weight. So the bottoms are actually now a little too big and I could do with the smaller size.
The bra comes in 30DD-38HH and the bottoms come in small – extra large. Slightly different sizing to Curvy Kate's main range.
Submission bra actually comes in a little strange on the sizing too. I went up to a 36G in this one. On the website it tells you to sister size up in the band and down in the cup for your correct sizing as the back comes up a little small. In my case I fluctuate between a 34G and a 34GG so the 36G was perfect.
This set honestly makes me feel so sexy. I love the strapping detail on it – honestly I love any bra with strapping detail its such a gorgeous and sexy detail. It's just absolutely gorgeous and with it being made out of such a lovely mesh it's actually super comfy to wear.
It's the perfect date night set as its sheer and sexy. It makes you feel so confident when your wearing it. It actually now comes in black with blue detailing and it looks just as gorgeous as this one!! I definitely need to get my hands on it!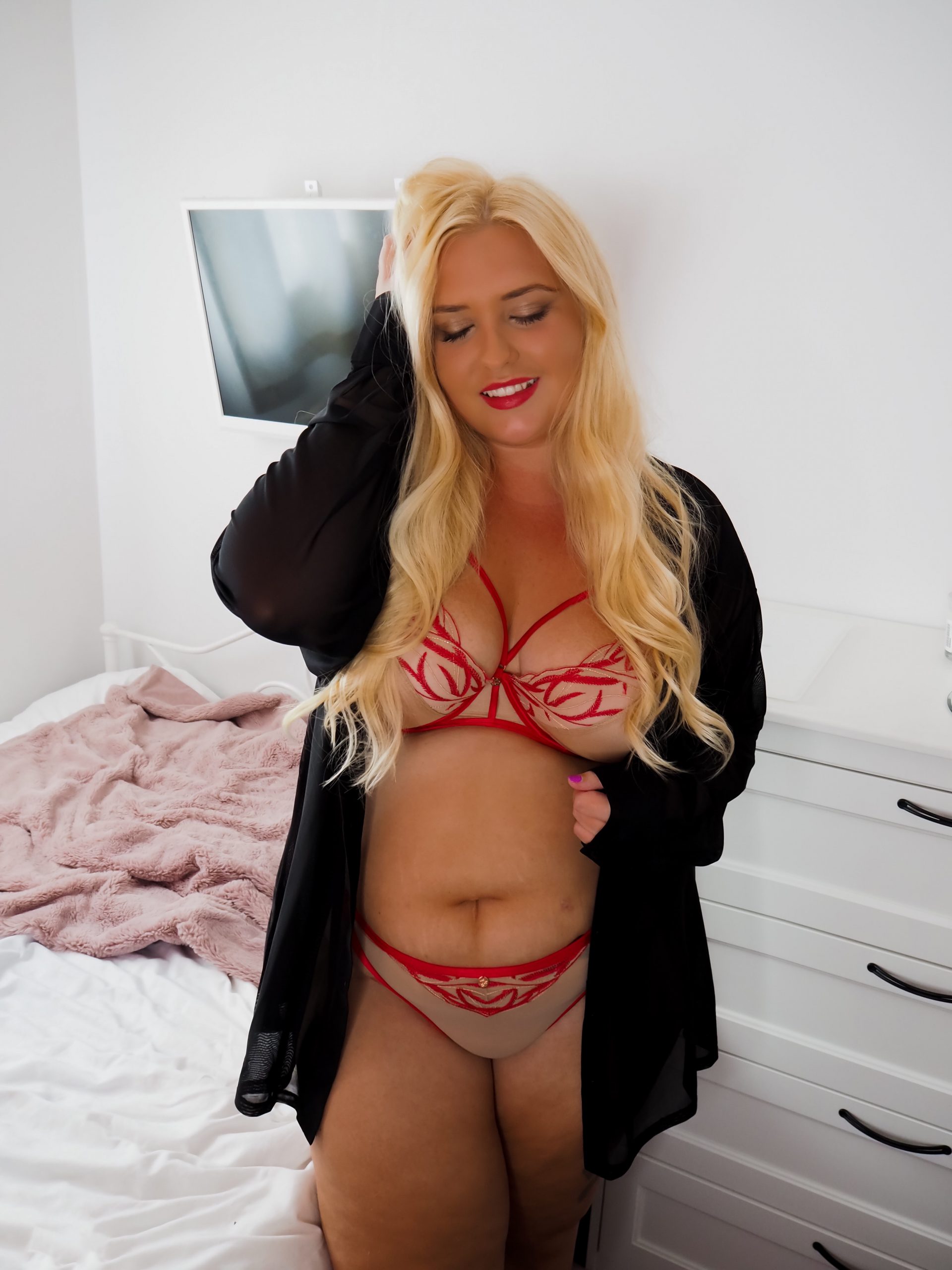 Styling The Submission Set
As much as I'd love to go around with this bra completely on show, I think that's better left for the bedroom.
My favourite way to style this bra is under something fitted that has a v neck, that way I get to show off some of the strapping detail of the bra with still leaving plenty to the imagination.
There are plenty other ways to style this gorgeous set but the detailing is too gorgeous not to show off some of it.
You can find the submission set in nude and red here.
And the submission set in blue and black here.
*The post includes PR Products. However as always all words and opinions are my own.
*This website uses affiliate links, this doesn't cost you anything extra but I may make a small amount per sale.