I recently received this gorgeous Curvy Kate red bikini from the guys over at belle lingerie!
It's one of the first bikinis I've gotten in my correct bra size. I've always been the girl who has to buy a top at least 3 sizes up from the bottoms in bikinis. Just so that my boobs kind of fitted.
I mean we've all done it with cheap bikinis haven't we?!
I'd not really tried any bikinis that actually came in bra sizes. And if I had they were definitely the wrong size and no wonder they didn't fit right!
So I couldn't wait to try this gorgeous bikini that Belle lingerie had sent me!
Belle Lingerie
Belle lingerie is a lingerie website, believe it or not. They sell a wide range of lingerie brands, with all sorts of sizing ranging from a 28 to a 50 back. And with cup sizes from a AA all the way to I believe an L! Some real inclusive sizing can be found on their website.
They have a wide range of swimwear, lingerie and shape wear and they're all really affordable too. A lot of what I've seen on their website is actually cheaper than from some of the brands themselves and other websites that I've seen them on. It's definitely worth shopping around and checking their website for deals! They even offer free shipping and returns which is fabulous!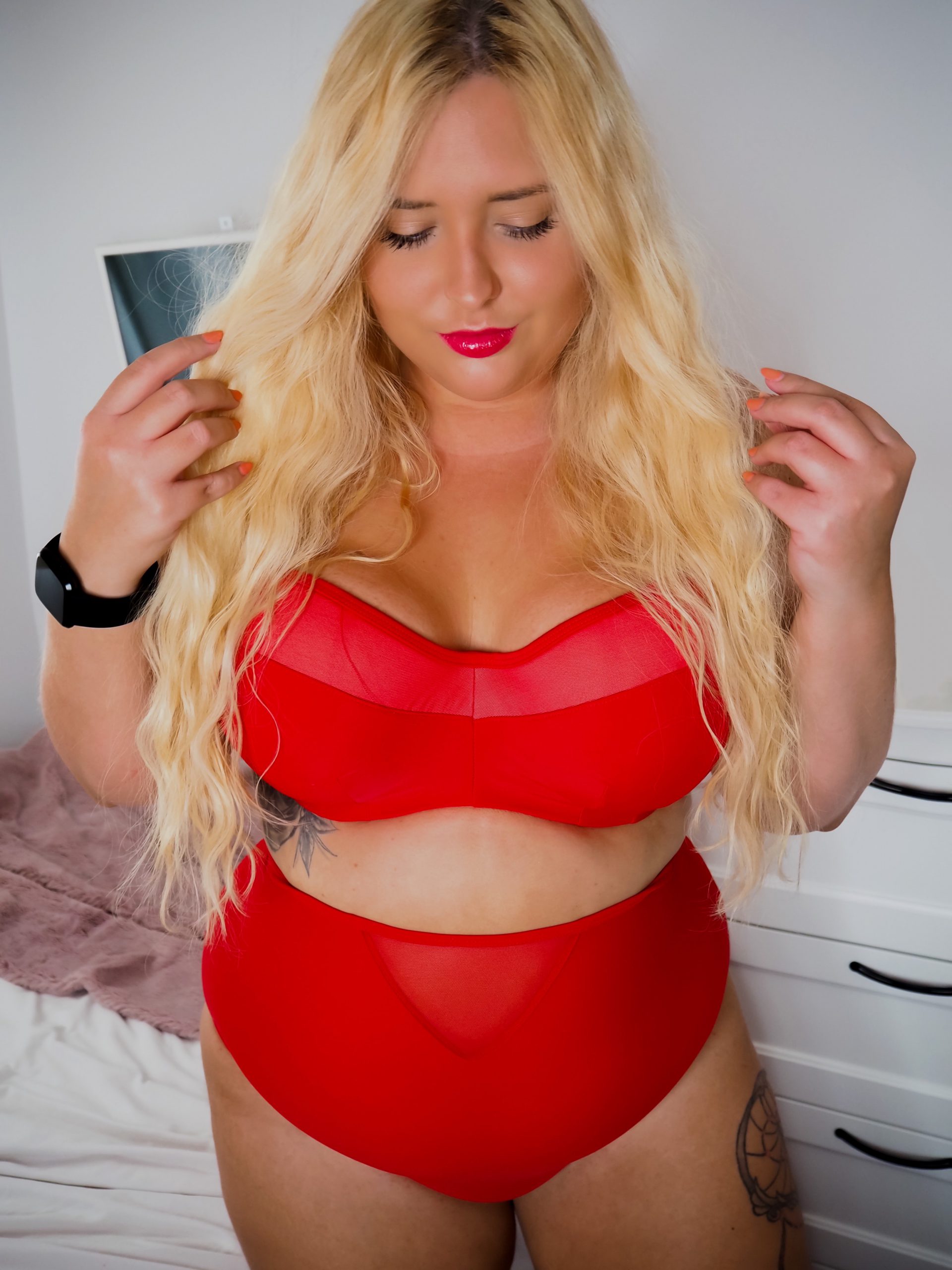 Curvy Kate Sheer Class Bikini
As soon as I took this out of the packet I was in love. The red is just stunning and I'm actually a little ashamed to say that this was the first high waisted bikini I've ever owned! It's a style I thought that I couldn't pull off being so curvy. But now I've tried it I want more and more high waist bikinis! It's super flattering and really compliments curves whilst being super comfy.
I actually found that the top in this bikini came a little small in the back and the cup. So I exchanged it for a 36G rather than my usual 34G and Belle Lingerie were fabulous with the exchange! Once the 36G arrived it fit perfectly and looked incredible.
The bikini top is actually moulded, it's not got tons of padding in it but it's got enough there to hold you in place and be supportive! With anything padded I usually find I need to go up a cup size or two, so I wasn't too surprised that with this bikini I needed a cup and a back size up.
The bikini bottoms fit perfectly! I can't fault them at all! They're stylish and comfortable.
I think that the top being multi-way is absolutely brilliant! It means you can pretty much style it how ever you want. The straps can be took off completely, worn as normal, crossed over at the back or even as a halter neck. So that means it can look like a completely different bikini top depending on what style your feeling each day.
It's honestly so comfortable, supportive and absolutely gorgeous!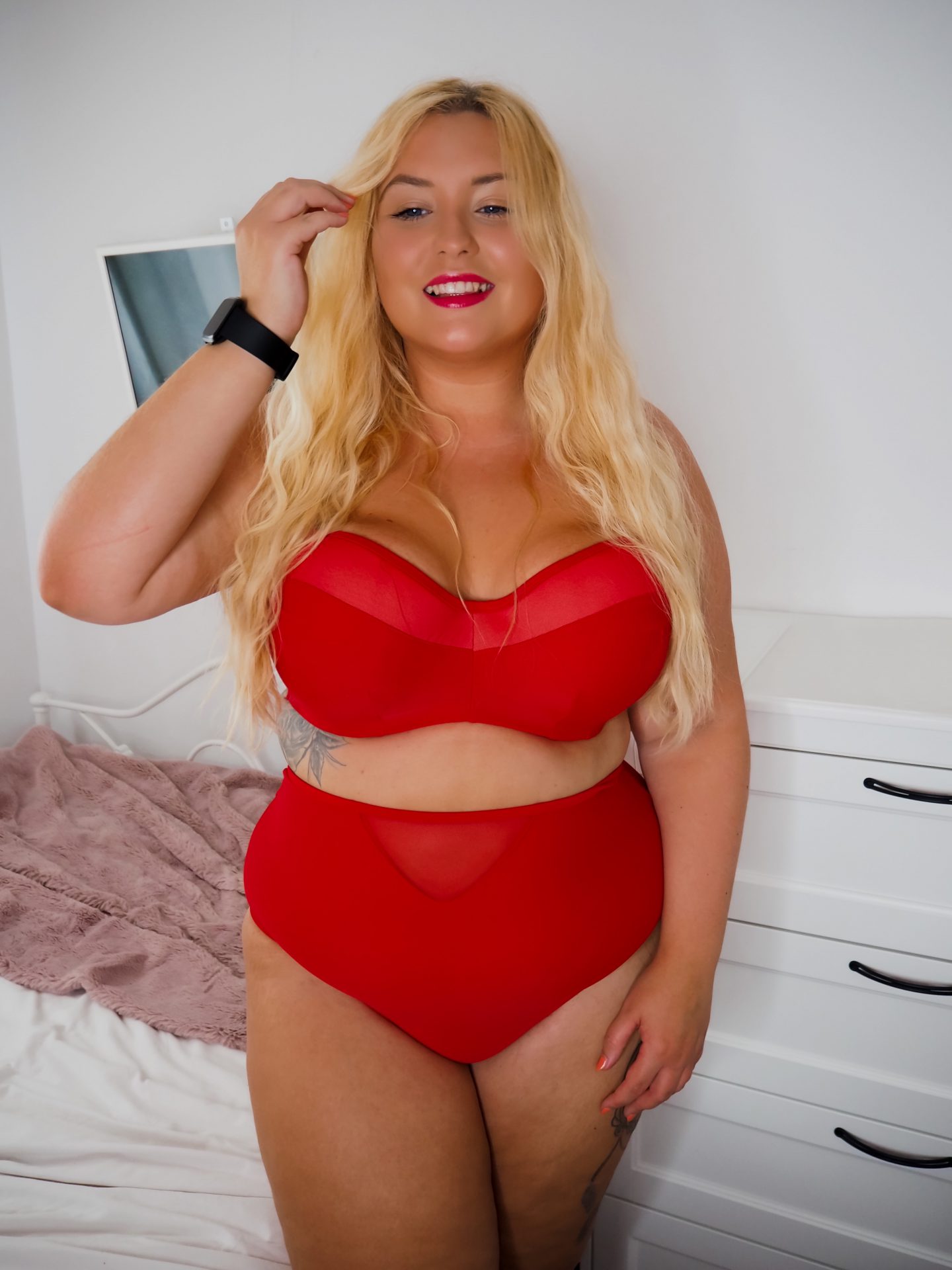 My thoughts on fuller bust bikinis
I'm absolutely in love with this bikini! The gorgeous red has got me feeling like some out of baywatch!
The fact that it's actual bra sizes is brilliant! I honesty don't think I'll go back to buying bikinis that are a few dress sizes too big now I've tried ones that are the right size!
Swimwear in the correct bra size has honestly changed the way I feel towards swimwear as a whole. It may be a little more expensive to buy a bikini or swimsuit from a fuller bust brand in your correct size. But it's bloody worth it!
You can find the Curvy Kate sheer class bikini's on Belle Lingerie here.
*The products in this post were PR Products. However as always all words and opinions are my own.