Hey my lovelies, I hope you're all doing okay? Today I thought I'd tell you all about the second set of lingerie I've tried from Freya. The Rhea set.
I was so impressed with how gorgeous and comfy the Florri set from Freya was I couldn't wait to try more lingerie from them. You can read my review of the Florri set here.
Anyway onto the stuff you're really here for.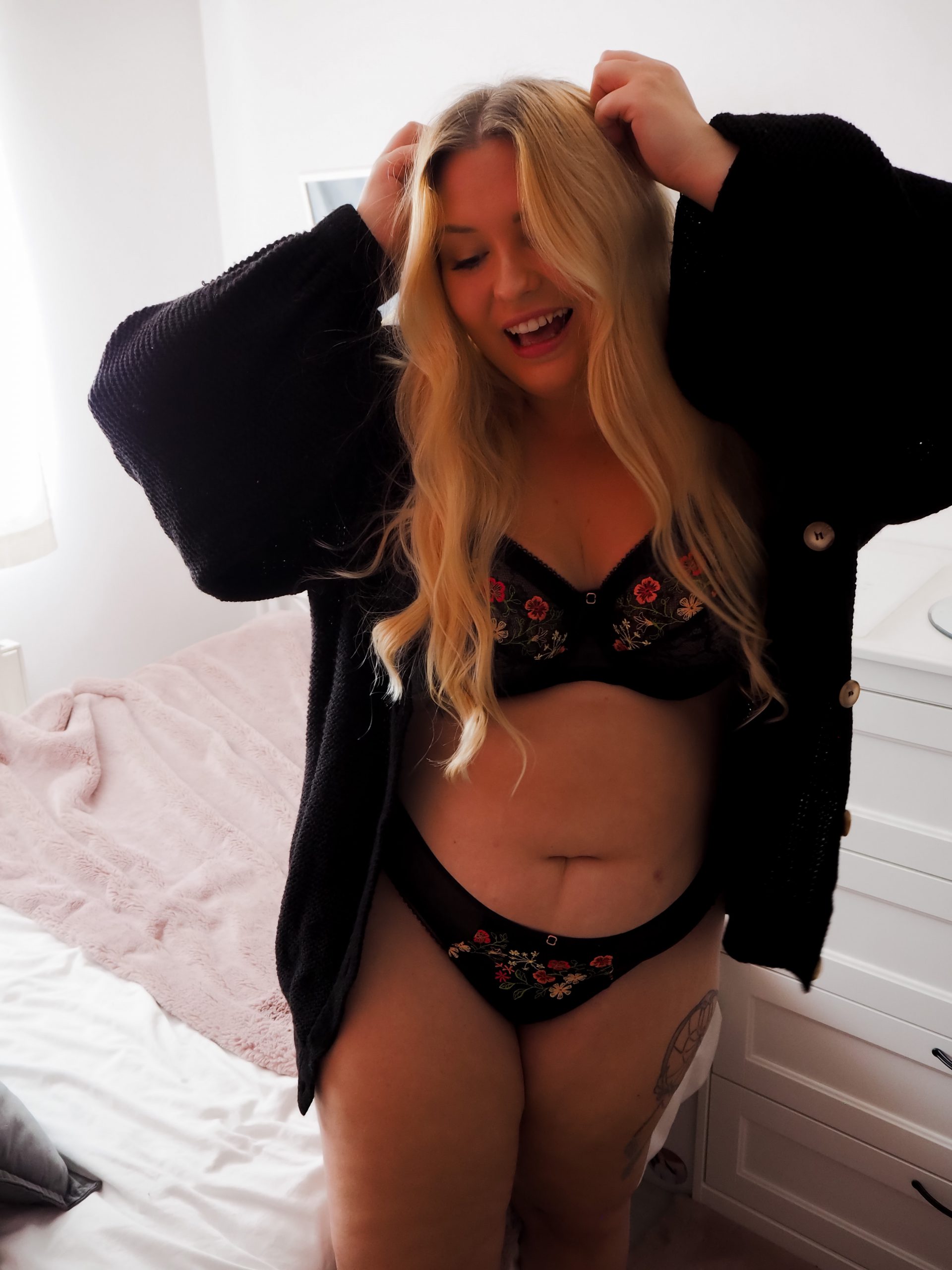 Freya Rhea
The rhea set is a gorgeous floral pattern embroidered on a lovely black lace. It comes in a plunge non padded bra that comes in cup sizes D-G. A Padded half cup bra in cup sizes B-H. And a Brazilian and shorts which both come in sizes XS-XL. Personally I went for my usually newly fitted size of 34G and a size L in the bottoms. I found that the bottoms came up a little on the snug side.
Honestly I wish that there had been a thong on offer. I'm finding a lot of places that go up to my bra size and above don't seem to have a thong option for their sets. Which as a thong girl I'm really disappointed about. It would be fab to see more brands including Freya to start offering thong options along side their Brazilians, shorts and briefs.
The whole Rhea set is in the sale at the moment on Freya's website. The non padded bra was 21.60 and the Brazilian was 10.20 an absolute bargain in my eyes.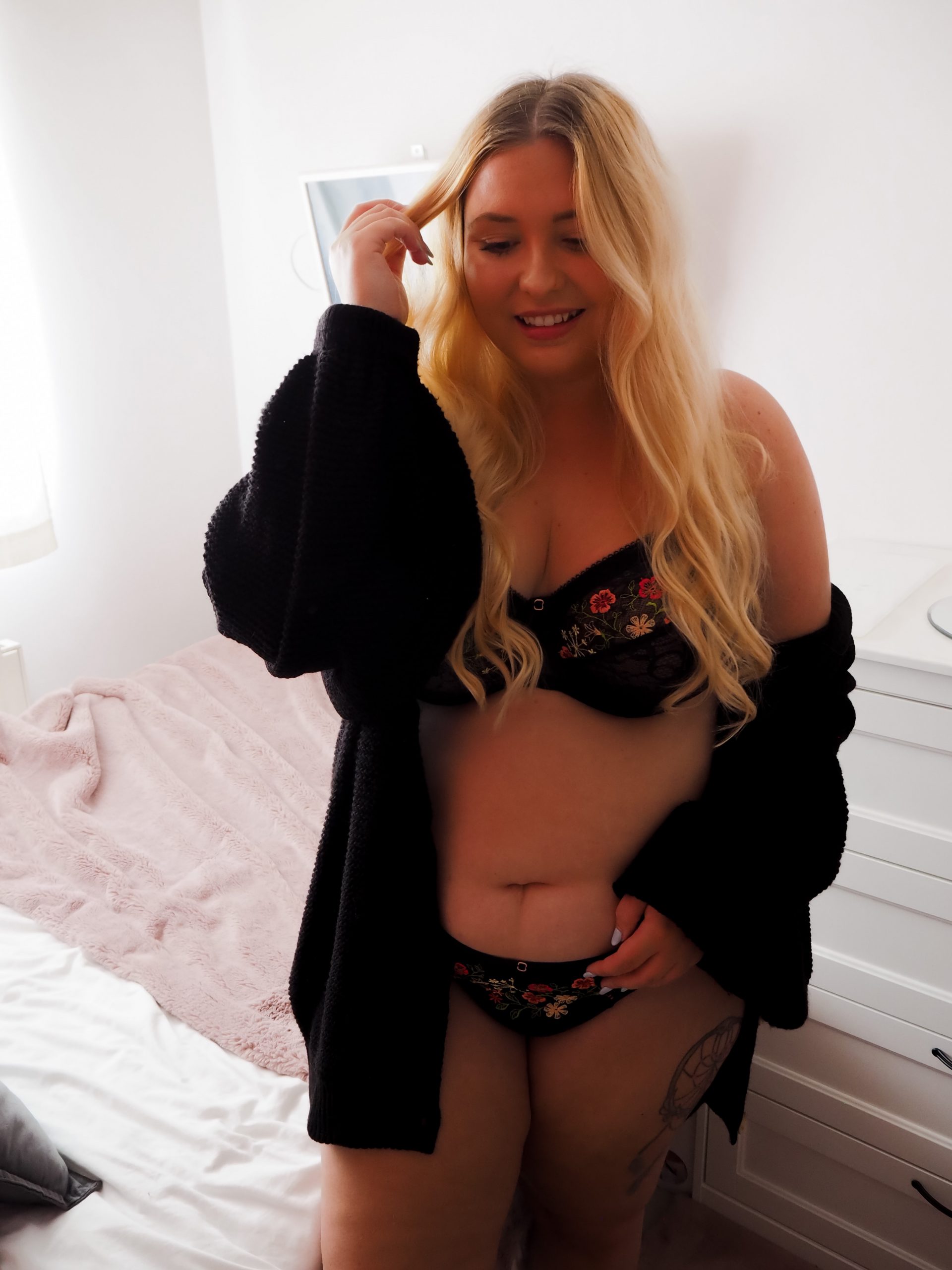 The Fit
The bra fits absolutely amazing in this set. The stretch lace that its made of has amazing side support, actually amazing all over support. As soon as I've put it on I feel so secure and comfortable. However I do find that even though the bra is a 'plunge' fit I find that the cups are more of a full or high coverage to some other plunge bras I own.
The brazilian pants are really comfortable and made out of the lovely stretch lace that the bra is made of. As I mentioned before I found that these came up a little on the snug side. So I went up to a size large in these as if rather have them a little looser than too tight.
Unlike the Florri set the rhea set isn't completely smooth due to the embroidery. But honestly I haven't really noticed it when wearing it underneath anything. So I cant see why it would be a problem. I've also not noticed the colours of the embroidery underneath anything either.
The set is super comfy whilst looking absolutely gorgeous. I can honestly say that wearing a well fitted set of lingerie always makes me feel like I can do anything.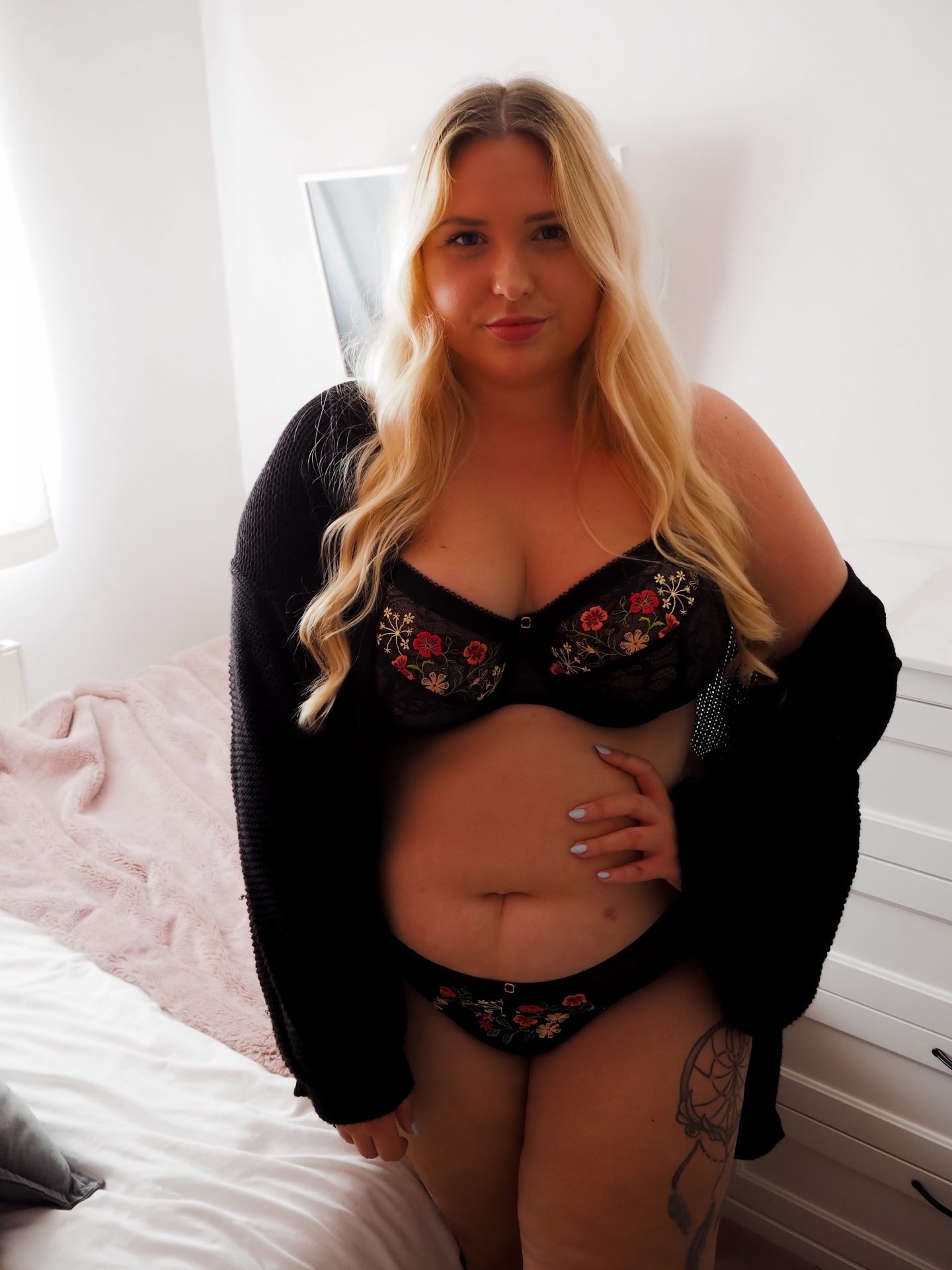 Style
Personally I adore this set. Its super comfy and sexy and is so easy to wear underneath pretty much anything. As I don't find there's any obvious signs of embroidery when underneath clothing. I've found that even though its black, that I can still wear it underneath pretty much any dark clothing and you cant tell.
It looks gorgeous styled underneath something dark but sheer – like a mesh oversize shirt. But I've found that I do have to style it with slightly higher cut tops and dresses due to the cups coming quite high up.
Overall
Overall I've been super impressed by the rhea set and it's definitely a set I love!
It's also a bargain at the moment so if your after something comfy and sexy it's definitely worth treating yourself to this set.
You can shop the Freya Rhea set here.