Hey guys! Welcome back to the fuller bust diaries! Today I'm reviewing some gorgeous pieces that were kindly gifted to me by Figleaves. I was super excited to give these all a try as I hadn't really tried any of their bras before!
I know a few of you have been asking how they fit so let's get to it shall we!
The Figleaves Pulse Set
The pulse comes in a few bra styles and colours. I went for the plunge pulse set in black with a thong. It comes in 30-38 back and B-G cup which is not the most inclusive size range. But its also not the worst size range either. Fab for those who fit in those sizes which I luckily do.
I have to admit as soon as I took this set out of the package I was in love. The eyelash style lace is so pretty and so soft. I can't believe that a bra my size is actually made of lace that looked so pretty and delicate.
To my surprise the bra fit perfectly, the sizing which I went for my newly measured size of a 34G, fit spot on. The back feels nice and firm, cups fit perfectly, even after doing the newly taught 'scoop and swoop'. If your not sure what I'm on about head over to my post about my online fitting to find out.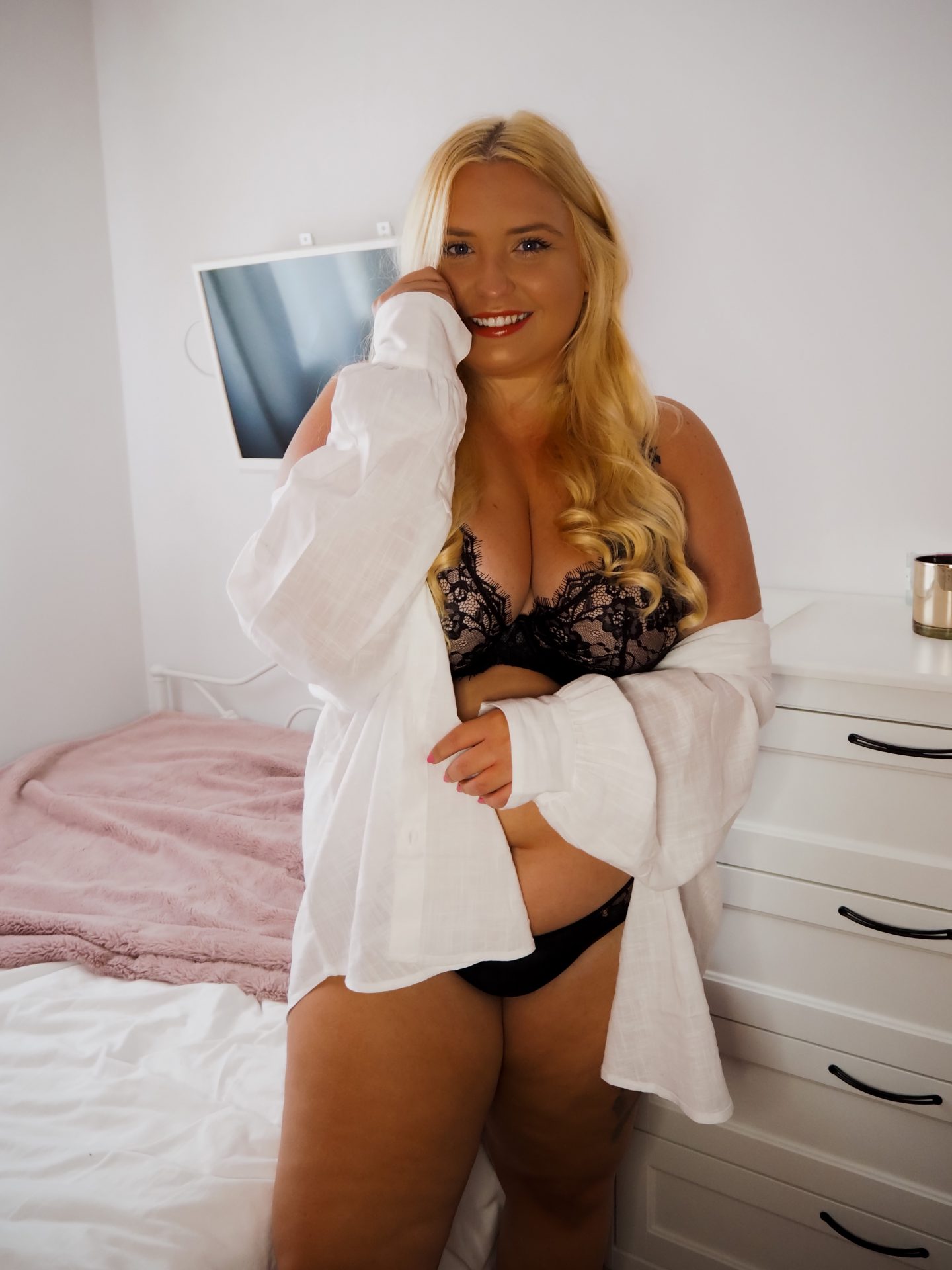 The eyelash lace of this bra is the perfect mix of comfortable, delicate and super sexy. The plunge shape is so flattering for my shape and fits like a dream whilst looking glamorous.
The bra has a band of side support that slightly goes underneath the boob too. Which supports my boobs great. I'm still amazed that something so delicate and soft supports my boobs so well. It's something I didn't really think was possible so well done Figleaves!
The straps themselves are a little on the thinner side compared to some other fuller bust bras I've tried. But honestly I haven't had a problem with them at all, they still support me amazingly. The back band has two hook and eyes which offer great support.
The thong to match is made out of lovely soft stretchy fabric, that fits perfectly.
Personally I love this set under anything slightly sheer, I want to show it off because it's just that pretty. But it also works great under anything plunge as it gives you that great shape.
This style is also absolutely prefect for date night if your in lockdown with your partner, I assure you they will love this set!
This is definitely one of my favourites from Figleaves! I actually love it that much I now want it in the gorgeous white colour. And possibly any other colour they do it in!
It's the perfect lingerie to make you feel confident and sexy!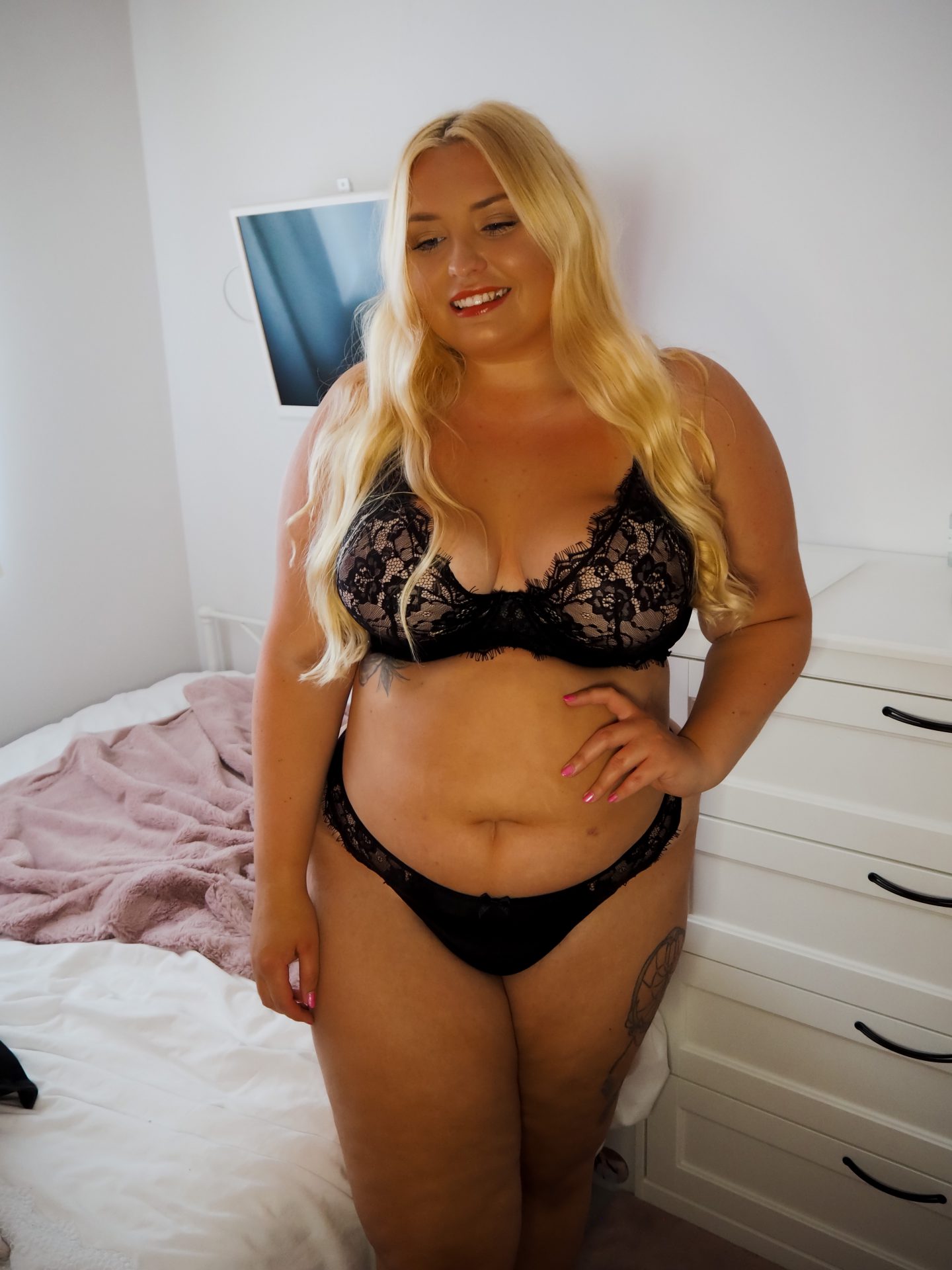 The Figleaves Haper Set In White
This cute white set has the most fiefdoms detailing on it. Made of soft stretch lace and mesh the Harper set is truly beautiful. It comes in the same size range as the above, as I believe most of the Figleaves own brand bras do. I again went for my newly measured size of 34G.
As much as I love this set I have. To be honest as it didn't fit me quite as well as the others, I'm not sure if it's the shape that didn't fit me as well or if the cups themselves were a little smaller than the other ones I've tried.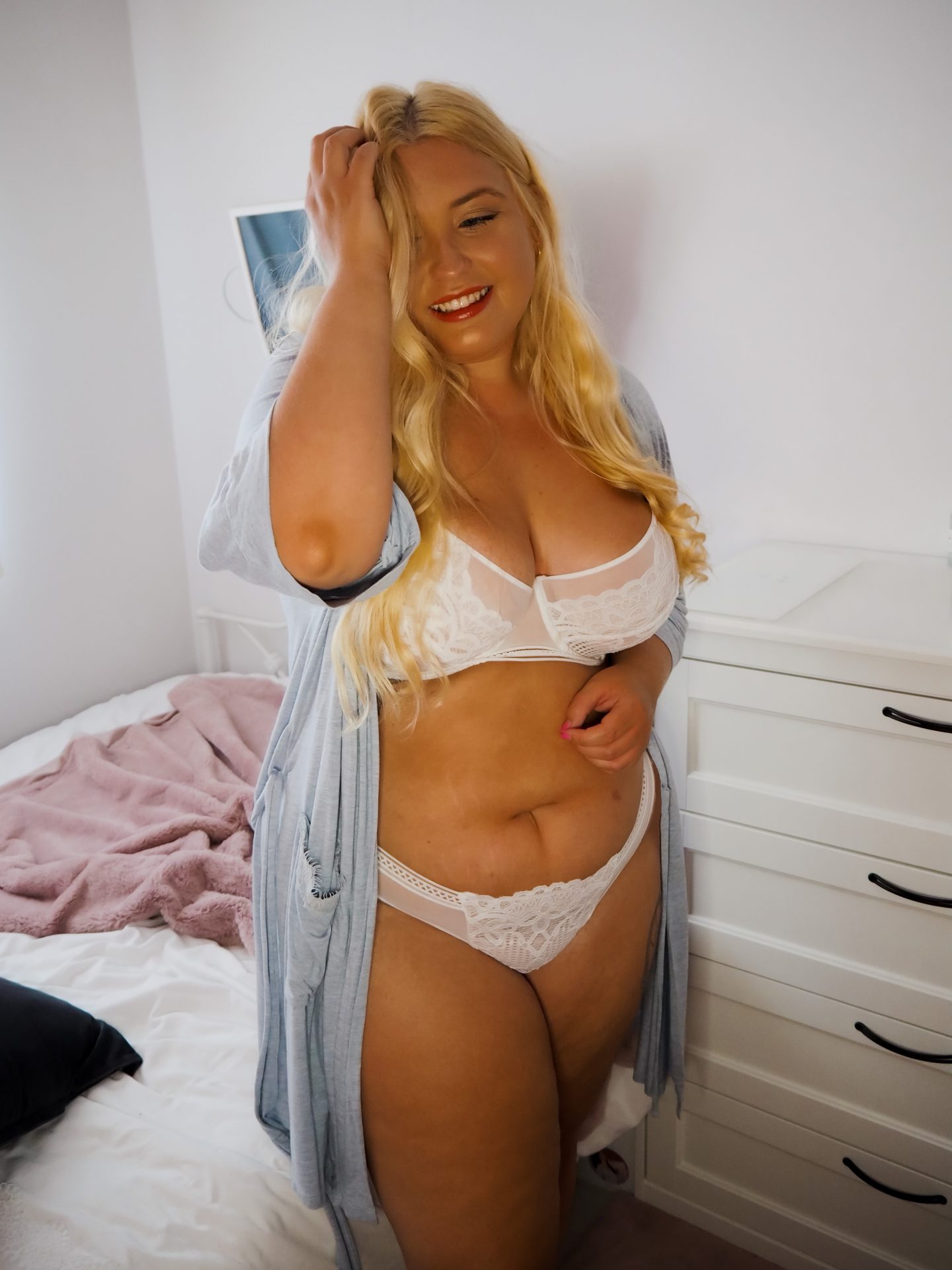 The cups definitely seemed a little small and I found that the middle of the wires does push out a little but not much. I could have probably done with going up a cup size as sometimes I fluctuate between a 34G and 34GG, unfortunately Figleaves don't go up to a 34GG, as I mentioned above I'd really like to see them adding some bigger sizes to their range. As I mentioned above, the straps are a little on the thinner side for a fuller bust bra. But again I had no issues with them and found them actually comfortable. The back fit great, again with a two hook closing.
Other than that this set is completely gorgeous and will fit like a dream if you are a G cup or smaller. The lace and mesh detailing are truly beautiful. The harper set is not only gorgeous, its made from super soft materials, which means that its really comfy. I'm not sure if it's because it didn't fit me as well as the others but i didn't find I got as much lift with this bra as I did with the others.
The Figleaves Juliette Set In Rose
I have to be honest I'm a sucker for anything pink, it's my favourite colour. So when I saw that the Juliette bra comes in rose I couldn't resist. The colour is absolutely stunning. It's super soft just like all of the other bras from Figleaves and fits like a dream.
The Juliette comes in the standard 30-38 back and a B-GG cup which is a slightly better size range by one cup size. I went for a 34G as I did with the other bras mentioned above.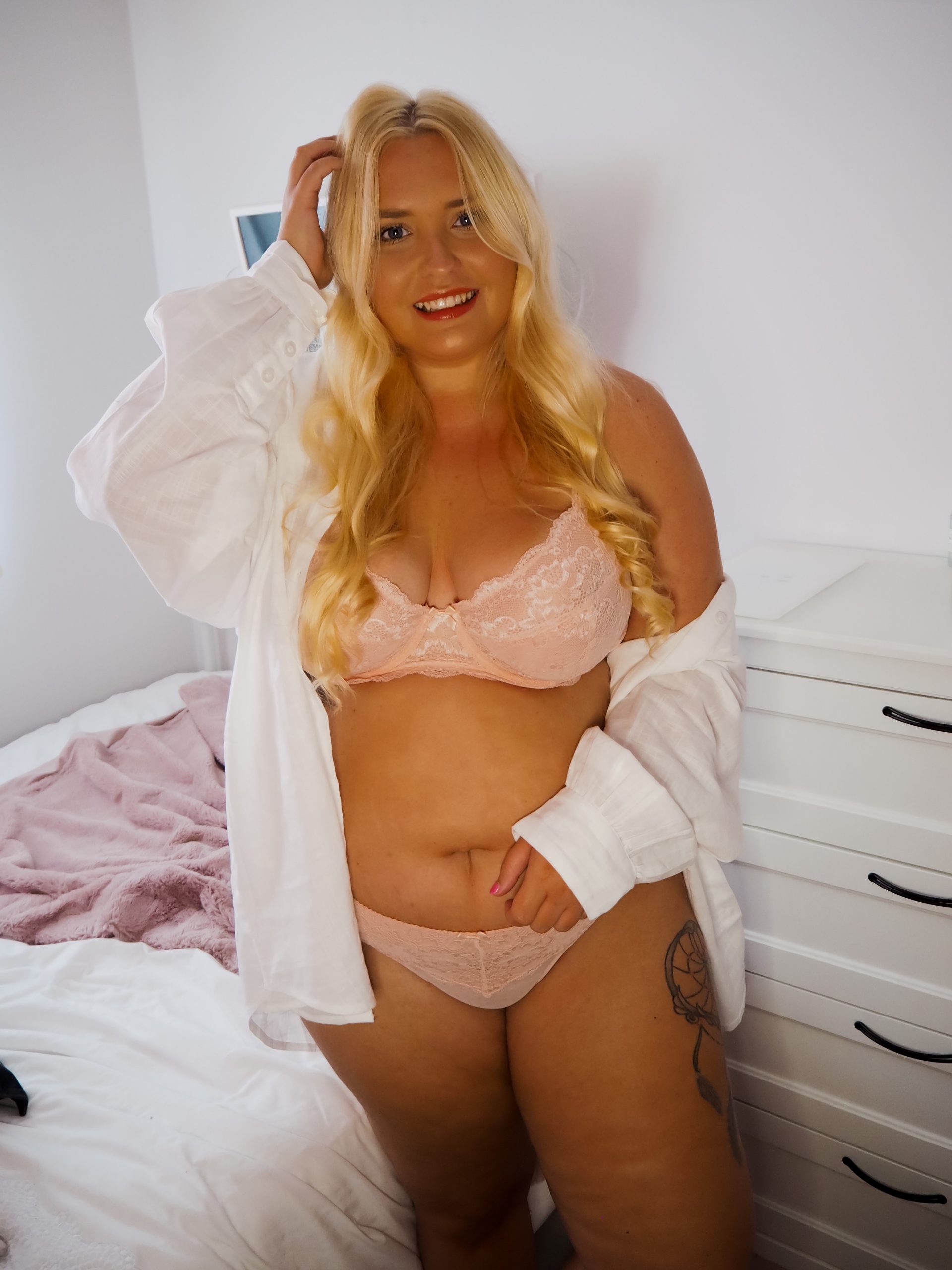 What I didn't realise is that the Juliette comes in many different styles – the un padded plunge that I'm wearing here, a padded plunge, padded Long line plunge, padded balcony, padded T-shirt bra and even a bralette. Which I think is absolutely fabulous. There really is something for everyone in the Juliette range. It even comes in a amazing range of colours.
I can't praise this bra enough, it's super soft, nice and supportive and really comfy tO wear. In my opinion the Juliette non padded plunge bra is the perfect every day bra with the added bonus of being sexy lace too.
It's another bra I love that much that I want it in more colours already!
The Figleaves Olivia Set In Ice Blue
I already know from posting a sneak peak of the sets on my Instagram stories that you guys LOVE this set just about as much as I do.
The baby blue colour of this set is such a perfect shade for summer. As you can imagine when you've got a tan it makes the colour of it pop that little bit more. It is honestly gorgeous. I loved this set the moment I laid eyes on it.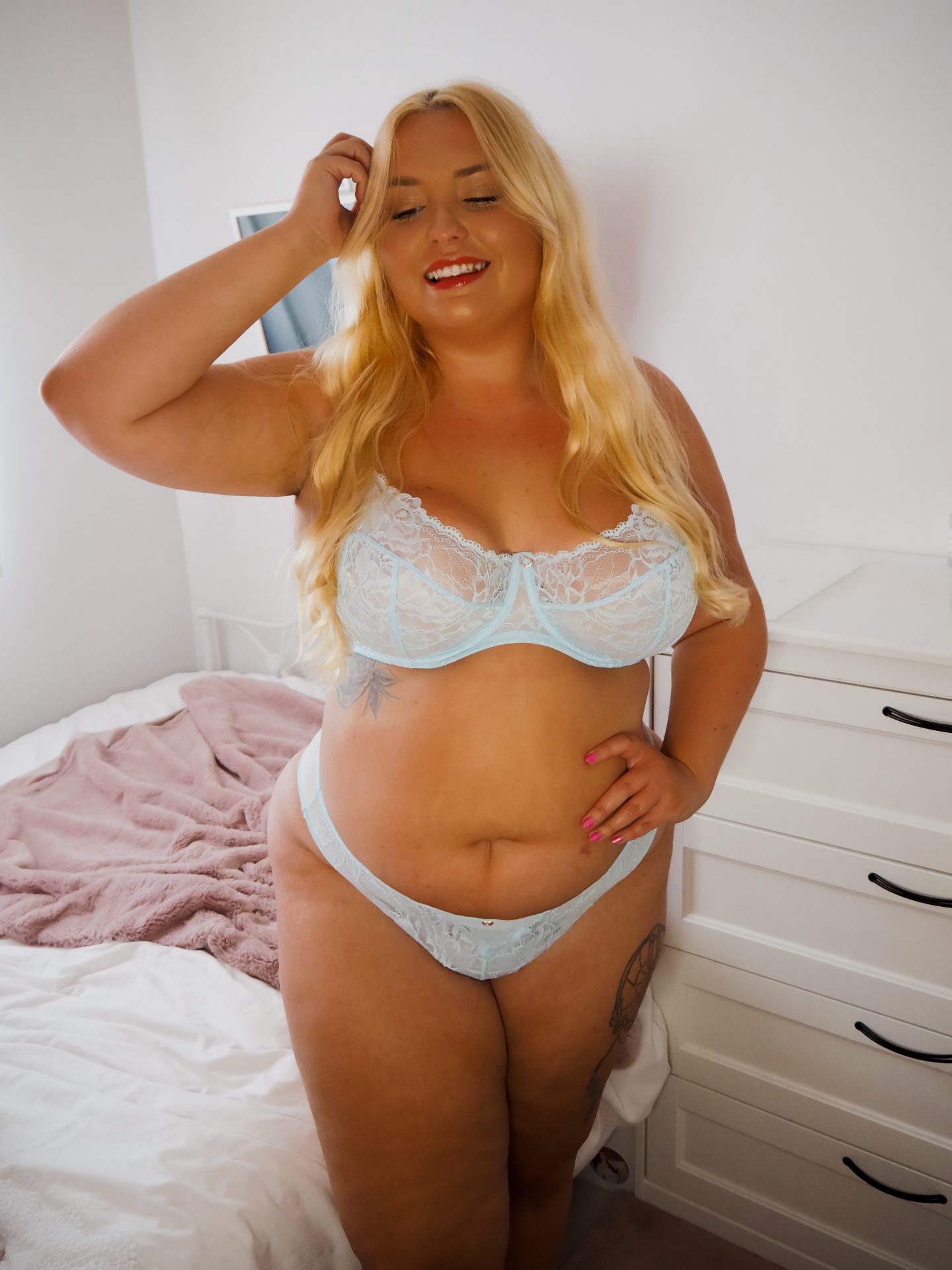 Similar to the Juliette the Olivia set os made from extremely soft stretch lace that is super comfortable to wear. This set comes in the standard Figleaves sizing of 30-38 and B-G cups. Personally I stuck to the same size as I did for the rest of the Figleaves bras, my newly measured size 34G.
The bra fit perfectly, the back size is spot on and the cups fit great. It's again a really comfortable bra to wear and the balcony shape is gorgeous. The pants on these did come up a little small in my opinion. I think it's because the back of is stretchy, and the front is not. Which I did find a little odd. Then again the Brazilians still fit great despite the front not being stretchy.
The Olivia set in ice blue will be your go to lingerie this summer! I'll be styling this set under anything and everything I can think of.
Overall Thoughts
Overall I absolutely adore these sets from Figleaves. They are truly gorgeous, each in their own way. I have to say I feel quite lucky that they go up to my size. I would really love to see the size range in cups, backs and the knickers extended by Figleaves as every woman deserves lingerie as gorgeous as theirs. It would be amazing to see Figleaves extend their size range in the future as i believe all women deserve underwear this sexy and pretty.
If your looking for something lace and sexy, are a size 30-38 with B-G cup boobs I would definitely say to give Figleaves a try. Not only are the designs of all of these Figleaves sets pretty, all sets are comfortable and are pretty reasonably priced too. As you know ladies lingerie can be a bit expensive sometimes!
Have you tried Figleaves own lingerie? I'd love to know what you thought in the comments below!
I've also popped all the links to these sets below for you guys!
*This website uses affiliate links, this doesn't cost you anything extra but I may make a small amount per sale.
*The products in this post were gifted. However as always all words and opinions are my own.